Image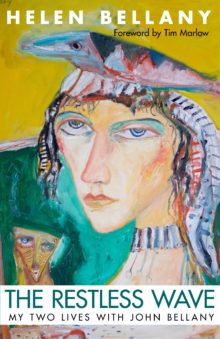 Performers
Helen Bellany (writer), Richard Holloway (chair)
The late John Bellany (1942 – 2013) is regarded as a major Scottish – indeed European - Figurative Expressionist painter, an artistic giant alongside Francis Bacon and Alan Davie. Born in Port Seton into a family of fishermen and the Calvinist faith, his art is profoundly religious and symbolic to reflect the human condition, life, death, with the evocative sense of place around harbours, fishing boats and the sea.
His widow, Helen Bellany has published a Memoir, The Restless Wave: My Two Lives with John Bellany. With a short introduction by the Richard Holloway, former Bishop of Edinburgh, she read an extract in the form of a letter she wrote to John following his death. It is heartbreaking in its honesty, describing her inconsolable sorrow.
We hear a series of anecdotes from her autobiography, starting with her early life in Golspie, Sutherland so remote that going to Inverness was like going to NYC. It was refreshing to escape to Edinburgh College of Art in 1961. 'Don't you be coming back with a fellow with long hair and a beard, mind!', warned her father, and of course she did. Meeting John was an easy friendship, as they both grew up at the edge of the sea. He was like Janus with the opposing faces of religion and wild Joie de Vivre.
Through the next forty five minutes, rather than a conversation, Helen is encouraged to relate the entire story of her life and times with John – marriage, family. London, marital problems, divorce, illness, liver disease, surgery, recuperation leading to their happy reunion.
John Bellany's art is barely mentioned at all which was most disappointing as many in the audience were perhaps owners or admirers of his work. It is only when there is a question from the audience to describe the painting on the front cover of the book and another about their time at Art College when Helen is able to describe the power and passion in his work. While Richard Holloway is a most compassionate presenter, it might have been a more rounded discussion if this event had been chaired by someone from the art world. This would have encapsulated how his turbulent, tortured life captured in his work was central to their loving marriage together, a union of souls.
"He broke the mould, he was unique, a maverick, a genius", she concludes.
The Restless Wave: My Two Lives with John Bellany, by Helen Bellany, Sandstone Press
Highly recommended is the Edinburgh Art Festival exhibition "Bellany, The Wild Days" until 27 August. Open Eye Gallery, 34 Abercromby Place, Edinburgh.