Image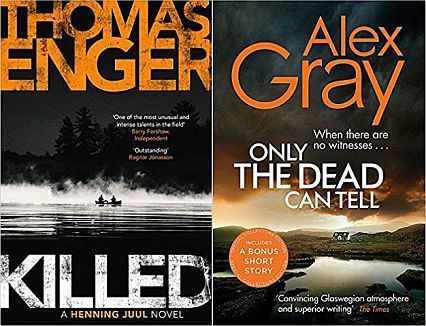 Performers
Thomas Enger and Alex Gray (writers), Al Senter (chair)
Murder is murder whether in Oslo or Glasgow. This fascinating discussion between two best selling Norwegian and Scottish crime writers, Thomas Enger and Alex Gray, compared their respective protagonists, mysterious narratives and manner of research.
As a journalist himself, Enger decided to invent an investigative crime writer, based on himself and Henning Jull was born. Killed is the fifth and final novel in a series about Henning who, ever since his young son was murdered in a house fire, has been determined to find the killer. Enger reads the Prologue which illustrates only too well the chilling atmosphere of his emotional, dangerous pursuit in which Henning seriously risks his own life. The verdict from the critics? 'Satisfyingly tense and dark, deep and complex .. delivers a knock-out punch'.
Alex Gray created a Police Officer, DSI Lorimer as her well established fictional hero and is grateful for being given confidential, inside knowledge from Police Scotland, learning the true facts behind detective work and forensic science which she translates into fiction. She gives a taster from the start of her new novel, Only the Dead Can Tell.
"I'd say the victim died sometime after three o'clock this morning. Rigor is incomplete…. the weapon in the victim's hands is a Laguoile knife. .. she may have been trying to stop the penetration of the blade … or it was suicide... …We'll know more when we have her in the mortuary. One thing is quite certain, though, Mrs Guildford was clutching that knife at the moment she died."
Presenting this event, Al Senter keeps the conversation on an even keel with entertaining, often bloodthirsty, enthusiasm. Asking about plotting, both agree that they don't plan every chapter in advance, but it develops gradually, adding red herrings to trick the reader. Instead of describing violence with gory detail, the art is to suggest what is happening to allow the reader to use their imagination like music behind scary films to add tension.
Their writing methods are very different. Alex lives in an old cottage where she writes in her Attic study from 4 am, stopping for breakfast and breaks through the day. Thomas works at his family home sitting at the kitchen table with children and domestic life all around, often escaping to the Library.
They can understand marketing speak but don't like the labelling of Nordic and Tartan Noir, or comparative tag lines from reviews, "Move over Ian Rankin" or "the new Jo Nesbo." However Scandic and Scottish crime share close similarities: cold Northern countries of ice and snow, dark winter nights, remote rural communities and tradition of Trolls, folk tales and supernatural legends.
Following the success of the Shetland series by Ann Cleeves from page to small screen, Alex and Thomas have had production companies taking options, but so far no progress towards TV or film success. A sense of place is crucial and the writers know their home cities intimately. It is their responsibility to describe Oslo and Glasgow in the best possible light, like Morse's Oxford, to give the reader a realistic, inspiring backdrop against which their thrilling, brutal crimes take place.
"Killed, a Henning Juul novel", by Thomas Enger is published by Orenda Books
"Only the Dead Can Tell" by Alex Gray is published by Sphere - Little Brown