Image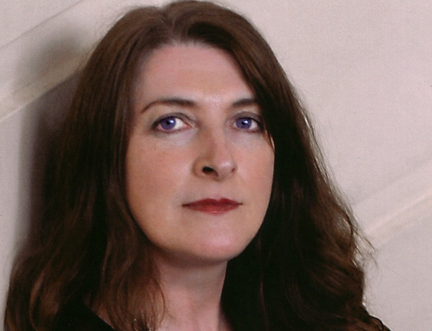 Performers
Janice Galloway and Jenny Niven
This event was the first of a special series on the work and legacy of Muriel Spark to commemorate the centenary year of her birth, a lively discussion between Janice Galloway, writer of novels, poetry and short stories, and Jenny Niven of the Literature department, Creative Scotland.
As a concise introduction, Janice Galloway gave a short lecture (impressively without notes), illustred with a selection of photographs from school-days to young woman, facts and figures shown on screen. A quotation My work is not easy to classify, it bothers people, it makes them nettlesome." commented Muriel in 2002, captures a hint of her inimitable use of words. Her early fiction was published at the same time as the Angry Young Men period such as John Osborne with Look Back in Anger. However she was criticised for expressing anger in her work which was not "womanly."
We are given a potted biography .. her short marriage to Sydney Spark, (she refused to do housework and that his name was the only part of him she liked and kept), life in South Africa, the birth of her son Robin then her escape back to the UK to work at the British Intelligence and then the Poetry Society. After winning a short story competition, she published her first novel The Comforters in 1957, which was very much based on her own life: "How could it be otherwise?!" comments Janice with the astute view that a writer's world is their personal muse. There would be 22 novels in total, with The Prime of Miss Jean Brodie bringing her enormous success – her milch cow.
Janice vividly describes meeting Muriel Spark for an interview, who then aged 80 arrived elegantly dressed in an evening gown and diamante ear-rings. She didn't really want to talk about her "boring" work, and came over as down to earth, with no show about her, interested in the gossipy news of the day, the Monica Lewinsky scandal.
The various voices in her fiction reflect the light and dark of experience, mood and characterisation with a precise, decisive style, bursting with opinion and a sly, dry wit. She was Scottish through topography and geography but European and international in cultural, social and political spirit.
A question from the audience asks if Spark had any regrets. Apparently her slogan was that life is short, do what you can in your life because one day you will not be able to.
This wide ranging tribute painted a richly coloured portrait of Muriel Spark, illustrating how she was in her intellectual prime throughout her literary life. A truly sparkling event to inspire us to read or re-read these modern classic novels which have all been published by Polygon in a new collection of Centenary editions with introductions by eminent writers and critics.
This event was part of the EIBF series, "Muriel Spark 100"
https://www.edbookfest.co.uk/the-festival/whats-on/themes/muriel-spark-…