Image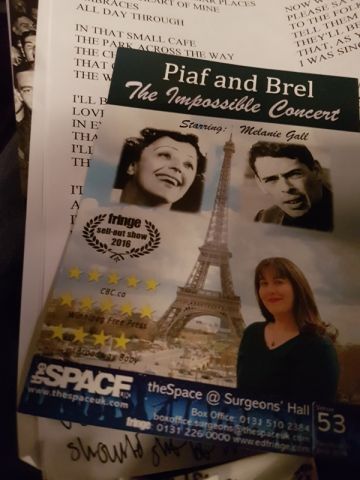 Production
A selection of songs of Dame Vera Lynn - including: "As time goes by", "Don't sit under the apple tree", "I'm beginning to see the light", "Auf Wiederseh'n", "Faraway places", "The white cliffs of Dover", and various others
Performers
Melanie Gall (vocalist), Bennett Paster (piano), Jim Whitney (bass).
"The Forces' Sweetheart" was admirably represented by Melanie Gall at Thursday night's recital. A modest attendance nonetheless appreciated this captivating performance. This was a jolly and celebratory recital - echoed not only in the works that were performed, but also in Melanie's great gift in engaging with and encouraging those who came, particularly with the injection of spontaneous humour.
Melanie's Canadian and operatic background was well explained, and thereby gave a unique link to connections with the works of Dame Vera herself.
The audience was enthusiastic throughout. Song sheets were provided, so that we could all join in with all the well-known songs; but not all were included, and there were some formatting issues. We were, however, treated to some marvelous insights into Vera's life, with engaging delivery.
Vera's grandmother's maiden name, Lynn, was chosen as her stage name. She is the first British artist to get to Number 1 in the American charts, with the song "Auf Wiederseh'n Sweetheart". When she was a child, Vera could make more in an evening of singing than her father could make in a week.
There was often a wonderfully relaxed transition from commentary into the musical performances. We were taken beyond the "White Cliffs of Dover" to other renowned classics, and it was really enjoyable to hear an actual recording of Dame Vera from 1944 - an inclusion that added reality and variety to the evening. The chronological sequence of the programme helped to hold the whole performance together. This year was Vera Lynn's 100th - and this was a fitting tribute, commemoration and celebration of that anniversary.
Thursday 24th August 2017 at 17.05