Image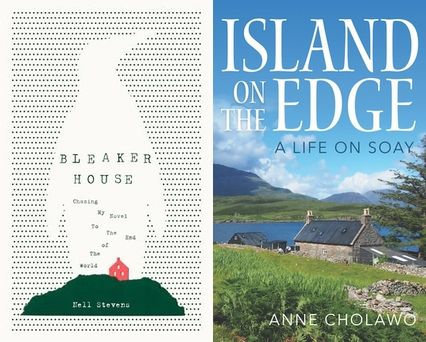 Company
Edinburgh International Book Festival
Performers
Nell Stevens, Anne Cholawo, and Susan Mansfield (chair)
For anyone interested in travel or world geography, this was a most inspirational discussion - indeed a journey - from the South Atlantic to the Hebrides. These are the stories of two young women, who, when in their twenties, decide to go and live on a remote island, far from the comforts of modern life, transport and communication.
After winning a three month, creative writing fellowship, to work on a novel anywhere in the world, Nell Stevens chose Bleaker Island, a windswept, eight square mile rocky outcrop in the Falklands. While a farming couple visit on and off, most of the time she will experience a solitary existence in the company of sea lions, sheep, cows and colony of gentoo penguins.
Anne Cholawo, a graphic artist in London, was intrigued by an advert for a house for sale on the Isle of Soay, near Skye. Leaving career and city behind, she set off north and now, 27 years later, she and her husband are well settled into their island home. The population today comprises three residents.
First of all Nell read a passage from her Prologue to set the scene:
Grey sky and a sweep of featureless peat rising out of the sea. The water is the same colour as the clouds: it is flecked by white-capped waves, spikes of black rock and the silvery spines of dolphins. I am living alone on an island.
This is a destination so remote that she needs to pack enough food for her stay, but with "woeful naivety" had not planned it accurately. Surviving on just over a thousand calories a day, she was often starving. It's wintertime, very cold and icy.
But she is optimistic, following the advice of Ted Hughes, "Successful writing = good conditions for real, effortless concentration." With no distractions, Bleaker is a place to do nothing but write. She plots out a novel and also writes a memoir about her changing emotions, moods and the nature of isolation, face to face with herself.
We are treated to a film about Soay featuring seabirds, diving dolphins, goats, swirling mountain mist, seashore, passing seasons from snow to spring sunshine. She then explains in 1989, on her first trip to Skye, she saw that Glenfield House, Soay, was for sale - the ideal opportunity for a complete change. She had never pushed herself, just work but no challenge. If she didn't do it now, she would always wonder about Hebridean life.
Anne was planning to paint but with just one phone line out and an occasional mail boat, it was impossible to sell art work. She learnt new skills on a steep learning curve, now gathering winkles to earn a living.
They both describe initial expectations and the reality. For Nell, lack of contact with the wider world, unable to Google at any time, was embarrassingly shocking. It took time to adjust. For Anne, the advert for the house stated "only accessible by fishing boat" but the boat was owned by the seller, and no longer there when she moved to Soay.
The presenter Susan Mansfield steered the conversation on an even keel as we relished their extraordinary tales of endurance and adventure. Both writers are certainly changed and enriched by the experience of a remote place, where life is taken at a slow place to appreciate each moment of every day.
This event took place on 28 August, 2017
Bleaker House by Nell Stevens is published by Picador
Island on the Edge, a Life on Soay by Anne Cholawo is published by Birlinn