Image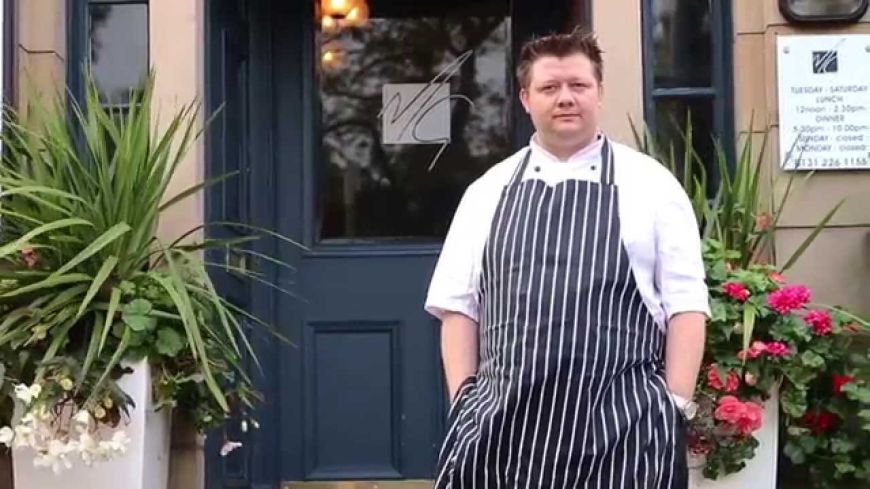 Performers
Mark Greenaway, Val McDermid, (presenter)
Chef Mark Greenaway strides on to the platform as if ready to give us a cookery demonstration but he is here to discuss his life in the kitchen in conversation with Val McDermid, a great admirer of his cuisine.
In her introduction she explains that his restaurant on the corner of Queen Street and Castle Street is less than a five minute walk away and has 3 AA rosettes, recently named the 13th best place to eat in the UK. As she describes it, " unpretentious, a comprehensible menu and a wine waiter who doesn't make you feel cheap!."
He has just compiled a glosy cook book, called "Perceptions: Recipes from Restaurant Mark Greenaway", aimed at the masterchef and keen amateur, with a list of his own local suppliers so that you sample the quality of his fine dining food at home.
Val kicks off the conversation by asking if he remembers his first attempt at cooking. This was a cake from a recipe on the BeRo flour packet, giving the instructions to bake for 45 minutes, but didn't say to take it out straightaway due to residual heat. It turned into a brick!.
Twenty five years ago, there was no Gordon Ramsay or Jamie Oliver to inspire him – just Keith Floyd and Delia Smith on TV programmes. Mark had not eaten in a formal restaurant and unaware of a career as a chef. With holidays in Butlins, eating fish and chips, it was a steep learning curve. Working in a hotel kitchen, he persevered as a pastry chef, winning an award for an elaborate milk chocolate mousse, raspberries in caramel with lattice tuile. This was 1997.
An extensive visit to Australia gave him the opportunity to experience international cuisine and gain confidence. The food was fresh, local with an array of seafood so different to the battered haddock of childhood. He returned to Scotland, working first in the Borders, then opened his own restaurant on Picardy Place where he immediately made a name for himself for unique, inventive dishes. TV fame next, appearing on the Great British Menu at the time of the Olympics, 2012.
Moving to his current premises involved hard work and personal commitment, very much a DIY project, a team of joiner friends and expense – such as a £5 K fridge. Apart from running his successful restaurant, his focus is on improving the poor reputation of unhealthy food in Scotland and taking part in Food Festivals. The key emphasis of his food is flavour, taste and the presentation of each dish, taking care to design the crockery on which it's served. And it's a kitchen brigade with no shouting and swearing "which will not help prepare the food any quicker!"
A member in the audience asked how he copes with the increase in food allergies. Fine, he says, if alerted in advance but a challenge if a table orders the Tasting menu with six different diets. One diner said she only ate dairy free, but liked home made ice cream!
And his favourite comfort food? – cooking Roast Chicken with all the potatoes and vegetables in one pot for the family. And after his talk at the Book Festival, he was going straight back to his kitchen at the Restaurant.
Performance details:
Mark Greenaway, Challenging Food Perceptions took place on Tuesday 23 August.
His cookery book, "Perceptions: Recipes from Restaurant Mark Greenaway" is published by Relish Publications. (July 2016).