Image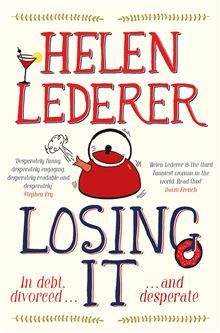 Performers
Helen Lederer with Lee Randall (chair); Celia Imrie with Jackie McGlone (chair)
Given the popularity of these two British actresses, it was understandable that Helen Lederer and Celia Imrie starred in their own one-woman shows at the Book Festival, rather than a double bill.
This meant a bit of a scamper between the two tents if you wanted to see both ladies discussing their work in theatre, TV, film and writing their first novel.
Helen Lederer is best known for her roles in Absolutely Fabulous and Naked Video as well as performing in shows from the Fringe to the West End. She is also a regular columnist in magazines and newspapers including the Agony Aunt for Women's Weekly. Her novel, 'Losing It' has the strapline, 'In debt, Divorced and Desperate'. Former TV actress, Millie Tucker is rather rotund woman with a grown up daughter, who has escaped to Papua New Guinea. Life for Millie is not so glamorous any more.
Presenter Lee Randall began by asking how she became a comedienne in the first place?. 'When she was 10 years old, fat, suffering from asthma and wearing a hairband'. Always the joker, she played pranks at school, the revolutionary anarchist. As a child her mother would say, "Don't show off, Helen".
The character of Millie illustrates all the issues many middle-aged woman have today, ageing, dieting, mothering. As a kind of Bridget Jones aged 55 +, Helen calls this new genre, Mid-Lit. Women need empowerment. When asked why she had selected the exotic island of Papua New Guinea, Helen replied that she thought she had been there!. But she did research for the book, learning all about anthropology and the fact there are no roads.
A lively conversation rich in sparkling wit and humour.
8.15pm and time to see Celia Imrie at the Main Theatre – a Full House. "I wish this always happened!" Ms Imrie remarked, smiling happily as she stepped on stage. The presenter Jackie McGlone introduced Celia and her comic tale of British Expats in 'Not Quite Nice' - why did you wish to write a novel?
She has already written 'The Happy Hoofer' an autobiography, 'this was easy as I know what I've done!. As an actress writing fiction, it helps in being able to create the voices. "I set it in Nice, so I of course I had to go there. No wonder all the painters loved it. Heavenly."
If the novel were to be adapted into a film she would love to play Sally who is a former actress. The main character is Theresa who has a demanding daughter and spoilt grandchildren. This scenario is based on real life, listening to a story by friends who were questioned by their adult children on why they were going on a cruise – "but what about our inheritance?"
It's a magical hour of theatrical anecdotes on and off stage and movie set, from working at the Citizen's Theatre Glasgow to filming 'Marigold Hotel' in India with Dame Judi and Dame Maggie. Jackie suggests that perhaps she will be Dame Celia one day soon. ….
With regard to being offered good roles in TV, Film and Theatre, at her age, it is difficult, she knows only too well. And she is not happy that David Suchet is currently playing Lady Bracknell at the West End. 'Why, may I ask?!!'
'Losing It' by Helen Lederer is published by Pan MacMillan. 'Not Quite Nice' by Celia Imrie is published by Bloomsbury. These events took place at the Book Festival on 25th August, 2015