Image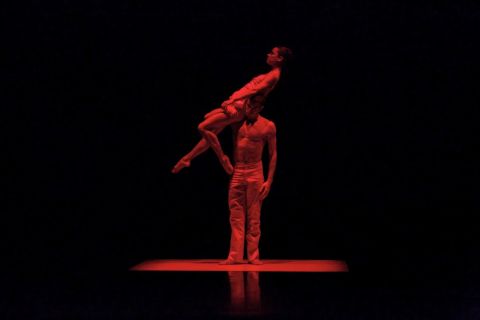 Production
Peter Darrell, James Cousins, Sophie Laplane, Helen Pickett (choreography)
Performers
Daniel Davidson, Bethany Kingsley-Garner, Brenda Lee Grech, Sophie Martin, Luciana Ravizzi, Nicholas Shoesmith, Owen Thomas, Katie Webb, Victor Zarallo
The Fringe-style studio space on stage at the Festival Theatre creates the perfect close up view of these five, very short, intimate duets.
Artistic Director Christopher Hampson is proud to revive Cheri (premiered at the EIF in 1980), and Five Ruckert Songs (1978) by Peter Darrell, who as founder of Scottish Ballet, his work is "our heritage, our legacy, our origin".
Cheri is inspired by Colette's classic love story. With a simple set and staging, chair, parasol, an elegant courtesan and her young gigolo, it illustrates the period and underlying passion with delicate charm. A brief amuse bouche to start the show.
Ruckert's five poetic songs set to Mahler's haunting music provides the narrative. A woman dances as in a dream, her long skirt swirling as she remembers the sweet flowering of a lost romance, "the gentle fragrance of love".
Heavy breathing is the key metaphor in Jealousy by James Cousins, as we witness a couple embracing, body entwined around body. The sensual, sexual power of the piece is exquisitely performed with physical strength and quiet beauty.
A pulsating funk-fortified technobeat introduces Oxymore, (Sophie Laplane), a track by Susumo Yokota: minimalist music and clubbing moves with hypnotic, head-banging rhythm.
Trace by Helen Pickett is set to a Rachmaninov prelude, a gently dramatised dance with sensitive expression.
These five duets have a combined duration of a short and sweet 45 minutes. Sitting close to the action there are both smooth, seamless performances and occasional shaky, mistimed steps. But overall a contrasting blend of vintage and modern observations of love and relationships.
Show times: 17 and 18 August, 2013
Run ended.