Image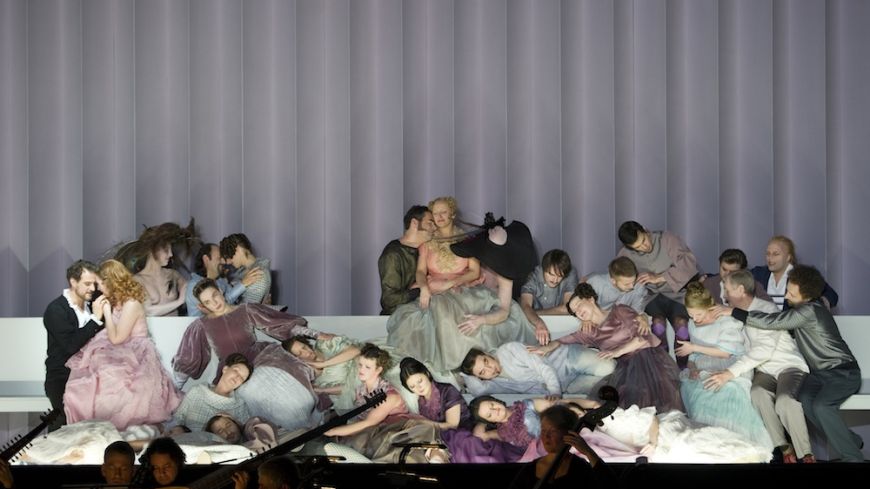 Production
Constantinos Carydis (conductor), Barrie Kosky (director), Katrin Lea Tag (stage and costume designer)
Performers
Paula Murrity (Dido), Sebastian Geyer (Aeneas), Robert Hayward (Bluebeard), Tanja Ariana Baumgartner (Judith)
Oper Frankfurt's fantastical offering – supported by the Consulate General of the Federal Republic of Germany in Edinburgh and The Binks Trust - was a double bill, each opera depicting pair of lovers, in both of which the female suffers because of her love for the male. Purcell's classically inspired piece glistened into towering heights through the dramatically characterful voice of Paula Murrity, whose Dido was serene, swan-like, stately and captivating. Her enemies - two witches and a sorceress - flaunted, taunted and shrilled with wickedness, played by trio of counter-tenors hideously clad in Dido-like drag. As an innovative extra, a nude Adam and Eve skipped and frisked, their faces concealed, perhaps flashing a hint of humanly love amid a romance wrecked by mankind.
Dido's Lament and Farewell were regally enriched by Murrity's talents and, latterly, by a symbolically departing chorus and orchestra who abandoned Carthage's queen, like her lover Aeneus, and like her dress, which was pinched by a witch, leaving Dido alone in shroud-like white. As Dido was dying of a broken heart, the orchestra's fateful coda was awkwardly interrupted by her choking gasps of tears. This, we could have done without. It didn't work and should have been scrapped.
The brilliance of the singing, the drama of the choreography, the vividness of the acting and the energy of the orchestra were let down in both pieces by mundane settings, the creator or which, weirdly decided to use almost none of the stage in the first opera and absolutely all of it in the second. In Dido the cast was scooped off the front by a long bench, which was not half as offensive as the view in Bluebeard, when the back of the stage glared gapingly at us in all its cluttering ugliness. Boxes, stacks, shackles and other storage devices of the stage manager's office added nothing to Bartok's dream-world creation and should surely have been concealed by a dreamy black drop. That would have elevated our impression of the enormous, moon-like, circulating lake – the only bit of setting in this production of Bluebeard. Bartok's nightmarish masterpiece grew dangerously darker as Judith opened the seven doors of Duke Bluebeard's castle one by one – and, on stage surely, we do actually need there to be seven doors. Instead, a few statue-like models displayed what each door revealed by dropping things out their arms – water gushed out, symbolising the lake of tears, golden glitter for the treasure trove and fake weeds for the garden.
An enormous orchestra was spectacularly conducted by Constantinos Carydis, who enchanted and dazzled with the sparkle, majesty, eeriness and wonder of Bartok's sensational score. Tanja Ariane Baumgartner's performance was particularly fine. Her crowning moment was unforgettable! That glorious top C - reminiscent of Haydn's Creation – towered triumphantly over brass triads, as she opened a non-existent door 5, revealing the moonlit panorama of Bluebeard's kingdom.
This was a thoroughly brilliant pair of performances, except for the sets.