Image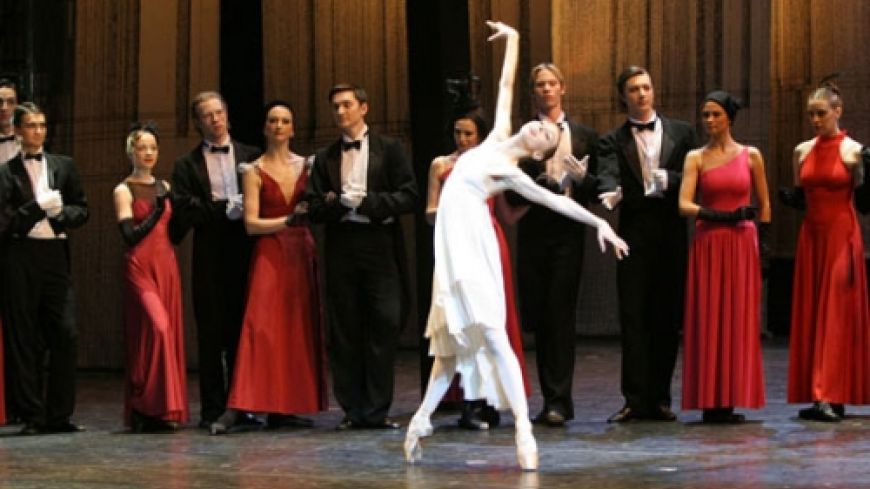 Production
Alexei Ratmansky (choreography), Valery Gergiev (musical director) Ilya Utkin, Yevgeny Monakhov (set design), Elena Markovskaya (costumes)
Performers
Diana Vishneva (Cinderella), Igor Kolb (Prince), Ekaterina Kondaurova (stepmother), and the dancers of the Mariinsky ballet. Mariinky orchestra, Valery Gergiev (conductor).
Arriving at the Festival Theatre, a man was standing outside making a general plea, "Does anyone have a spare ticket?" This first night of Cinderella performed by Mariinsky Ballet of St. Petersburg was a sell out.  
August might seem unusual for a Christmas fairytale entertainment for children, but this is no pantomime. This is a fresh contemporary version (premiered in 2002) of Prokofiev's classic ballet, which (taking the analogy of Crabbies alcoholic ginger beer) was a fizzing, sumptuous dance spectacle for adults – a Festival, not festive, treat.
Across the Proscenium arch, a screen shows a cityscape, an architectural drawing of tall buildings, roofs and windows. One window on the top right hand corner is suddenly illuminated, the screen rises and we are inside a vast high tech steel and glass apartment. Two floor to ceiling staircases frame the stage at each side of a red panelled wall.
Cinderella's stepmother and her two stepsisters are having their hair done as their stylists twist and turn, fussing over their clients. It's slick, sharp and funny, an aspect of the choreography by Alexei Ratmansky, who lightens and brightens many of the characters with a touch of humour.
In a silky black dress, the Stepmother is a foxy lady of fashion, whose red hair in a neat bob creates a Mary Portas lookalike. She has a viscious bite when not getting her own way, stamping her foot on the ground like an enraged toddler. But her clumsy, clodhopping daughters try in vain to emulate her style.
And so we are drawn into the romantic journey of poor Cinders, left to sweep the floor as her badly behaved family leave for the Ball.  However with a touch of fairy dust and magical transformation, she too is off to the Palace. Diana Vishneva (for whom the role was created), is a petite, fragile doll of a girl, now changed into a white gossamer dress, its soft floating layers almost transparent – perfect dress sense which won Kate Middleton her Prince.
Act 2 - The Ball. A huge chandelier (which swivels to show the clock at midnight), dominates the stage, with a trompe l'oeil backdrop perspective of a grand palace.  Standing in several neat rows, a large group of guests are ready to begin their waltz.  The mood is the 1920s, the ladies beautifully dressed in slinky gowns in shades of raspberry, plum and apricot, the men in black tie and tails. This is an exquisite scene of glamour and graceful movement. as they swirl and twirl across the stage. 
Standing out from the crowd the Prince appears in casual white shirt and trousers -  like a celebrity jet setter ready to step on board his Monte Carlo yacht.  But it's his party and he can wear what he wants and chat up the girl who catches his eye – Cinderella. They dance the night away, her delicate femininity clearly enchanting him before she runs off at midnight.  
Prokofiev's glorious score is performed with tight precision and pace under the masterly control of Musical Director Valery Gergiev, the sound seemingly amplified to fill the auditorium.   
Dance purists may not be inspired by the light-hearted and witty choreography by Alexei Ratmansky (now artist-in-residence with American Ballet Theatre) but no one can deny the blend of exuberant fairytale fantasy and fun with the effortless elegance  and colourful style of grand Russian ballet.  
As a lady in the audience remarked at the end, "Aren't we so fortunate to have the great Mariinksy company visiting Edinburgh".   No wonder it was a full house.
Show times
30 August - 1 September.  7.30pm.
1 September - 2.30pm

Ticket prices
£12 - £46