Image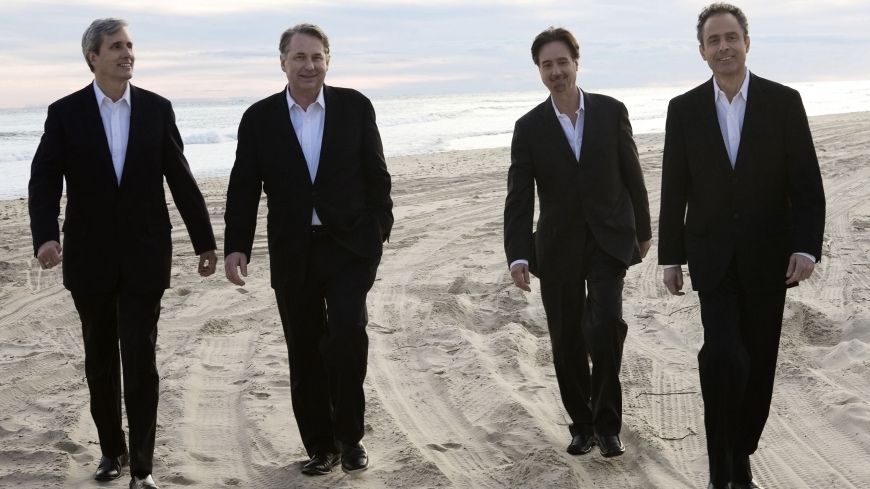 Production
Mozart, String Quartet in D K575; Thomas Adès, The Four Quarters; Beethoven, String Quartet in E flat Op 127
Performers
Eugene Druckner violin, Philil Setzer violin, Lawrence Dutton viola, David Finckel cello
A diverse programme of music spanning 221 years was performed to a capacity (including standees) Queen's Hall audience by the Grammy Award winning Emerson Quartet. Overall their performance in each case was interpretive of the light classical nuances of Mozart; the atmospheric textures of Ades, and the robust, colourful harmonies and dynamics of Beethoven.
Following a visit to Berlin in 1789, Mozart was commissioned to write a set of six quartets (plus six easy piano sonatas) for cello-playing King Friedrich Wilhelm II. Throughout each movement of the quartet it was interesting to note the expressive cello part, originally written with a monarch in mind, and the often unexpected job of the other instruments within the overall classical structure and texture of the piece. Although a restrained piece by Mozart's standards, the Emerson Quartet performed the piece stylistic of Mozart's late works of the classical era.
The première of Mozart's D major K575 was, for all intents and purposes, really a private 'run-through' performed in 1790 – it is thought Mozart may also have played the viola part on this occasion. Fast forward two hundred and twenty-one years and Thomas Adès's, The Four Quarters was premièred in Carnegie Hall, New York. From the angular, atmospheric melodies of 'Nightfalls'; the pizzicato droplets of dew from the Serenade: Morning Dew; the dissonant harmonies and repetition of notes to suggest the passing of time in 'Days', and the complex rhythms heard in 'The Twenty-Fifth Hour', indicative of 'time beyond...'.  The Emerson Quartet's programmatic interpretation of this piece was nothing short of a triumph.
After a short interval, Beethoven's String Quartet in E flat Op 127 was performed to a most responsive audience. This work was undertaken at the request of Prince Nikolas Galitzin,  and was one of three written prior to early 1826. With a change over of first-chair violinist,  the Emerson Quartet filled the Queen's Hall with rich harmonies, dramatic dynamics, and interesting interplay between all four 'voices'. How sad to note the departure, after thirty plus years, of David Finckel (cello) - however, it is with no doubt these performers and their numerous recordings have, and will remain firm favourites with classical music lovers the world over – it is easy to hear why. Moreover, following rapturous applause our musicians delighted us with a dazzling encore performance of Webern's 4th movement Op 5. 
Event: Saturday 1 September 2012 at 11am