Image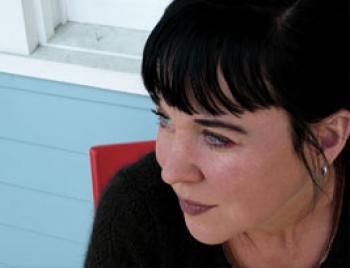 Kristin Hersh cuts a slight but forbidding onstage figure. Petite and dressed in all-white, she's here for a second night at Cabaret Voltaire as well as having been the focus of an Edinburgh International Book Festival event.
The book in question up for discussion was "Paradoxical Undressings", Hersh's memoir of her formative years. Tonight's performance before a clearly adoring audience is interspersed with readings from this new volume which come across almost as short, poem-like utterances from Hersh. Many of these segments focus on her childhood and relationship with her father, known as Dude ("He went to see The Big Lebowski and got twitchy all through it").
Raised in a Buddhist household, it's fair to say that Hersh's upbringing sounds fairly unconventional and many of these segments are quite hysterical, given further nuance by Hersh's delivery which invokes the reasoning and wonder of a child trying to understand their world.
It's Hersh's songs that her loving public are gathered for, though. The former Throwing Muses frontwoman is a proper American indie icon and was rarely out of the pages of NME and Melody Maker during the late eighties and early nineties. She performs her music alone with her electric guitar and transforms herself totally from demure courtesy to raging intensity.
Piercing blue eyes, seemingly unblinking, and the occasional snarl manifest themselves in these songs of dirt and ugliness and it is through these that Hersh's well documented struggles with mental illnesses are laid bare. The juxtaposition is made even more clearly by her sweetly uttered "Thank You" at each song's end.
She seems genuinely pleased to be here with us, easing up and smiling more as the hour goes by, and her audience hang on every spoken word and sung note. It feels far from the average "rock gig" and more like being part of an intimate confessional with an old friend.