Image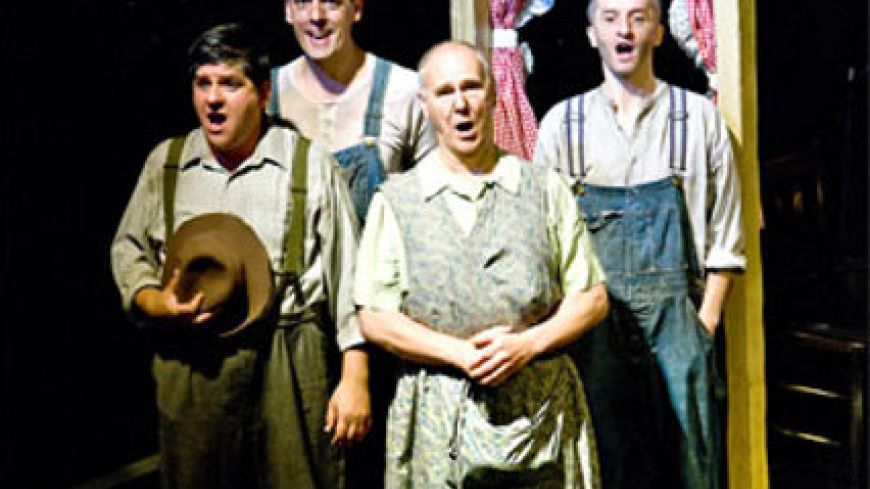 Company
Scottish Opera and Company Chordelia
Production
The Seven Deadly Sins by Kurt Weill and Bertolt Brecht
Performers
Kally Lloyd-Jones (director), Janis Hart (designer),Grahame Gardner (lighting), Jessica Cottis (conductor), Nadine Livingstone (Anna 1), Damian Thantrey (Brother), David Morrison (Mother), Iain Paton (Father), Peter Van Hulle (Brother), Kisty Pollock (Anna II), Peter Baldwin (Male Roles), Nicole Owens (Actor).
The art deco surrounds of the HMV Picture House, at the bottom of Lothian Road, provided the perfect backdrop for this Fringe production of The Seven Deadly Sins. It was written by Kurt Weill for his then estranged wife, singer Lotte Lenya and is set in a 1930s film studio.
Sometimes described as a sung ballet or danced opera this was a joint collaboration between Scottish Opera and Company Chordelia. In its short thirty five minutes, each of the seven deadly sins are portrayed with a film crew recording the goings-on of a girl leaving her parents and brothers in depressed rural central United States with the intention of making her fortune so that she can return and build the family the house they want. Little did the family back home realise quite what a low life she was living.
The Orchestra of Scottish Opera played Weill's score in a full orchestration that mixed brass, banjo, barbershop, jazz and classical. Jessica Cottis, currently Assistant Conductor at the BBC SSO, conducted, making her Scottish Opera debut. With director Kally Lloyd-Jones came a wealth of experience in the worlds of opera and dance.
Former Scottish Opera Emerging Artist, and rising operatic star, Nadine Livingston sang Anna I. Dancer Kirsty Pollock,  was Anna II.  David Morrison – a familiar face to Scottish Opera audiences with roles spanning 20 years took on the 'skirt role' of Mother - a man playing a woman's role, and very successfully too.
The interior of the Picture House was filled with tables and chairs for cabaret and is larger than you would expect. It was an ideal way to enjoy a great little opera that was over far too soon.
Event: Monday 29 August 2011, 9pm