Image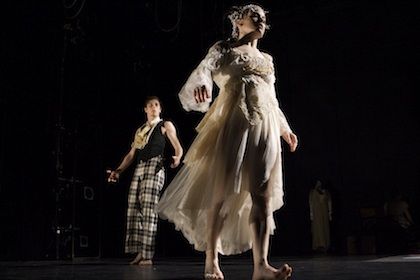 Company
Scottish Dance Theatre
Production
Ina Christel Johannessen (choreographer), Katherine Tolo (costume design), Bruno Poet (lighting)
Performers
Toby Fitzgibbens, Ruth Janssen, Anna Kaszura, Naomi Murray, Natalie Trewinnard, Matthew Robinson, Rocco Vermijs, Solene Weinachter, Jori Kerremans, Joan Cleville.,
The title and starting point for this new work by Norwegian choreographer, Ina Christel Johannessen, is a gothic story by Polish writer and artist Bruno Schulz. Set in a strange house with a maze of forgotten rooms, it describes images of shadows above the lampshade, ghostlike shoots and branches and dark smiling mouths.
As the audience takes their seats, the company of ten dancers is already in posed frozen positions like a Victorian Musical Hall  troupe, sitting at the back of the stage on ladders, a wheelchair or wicker baskets, as if trapped in the theatre at night. Men are dressed in an assortment of tartan trousers, a kilt or cricket whites, women are wearing a white lace gown, checked frock, a tartan dressing gown. Sitting and standing amongst the group are five vintage headless mannequins, their wooden limbs and hands like skeletons.
The dancers slowly in turn start to move with sharp, jerky movements,  like toys and puppets coming out to play in a nursery when the children have gone to bed. With white mask faces and hollowed eyes, five dancers appear to be ghosts haunting the living world like the phantom of the opera. The eerie atmosphere is brilliantly evoked through chilling music (Svarte Greiner and Elegi) featuring sound effects of creaking doors and a scratched 78 record.
Unfortunately there is no clear narrative to follow, but the fluent, stylised choreography shifts and flows in a mesmerising mood; a young lost and vulnerable bride spins around the stage in and out of romantic pairings, becoming hysterical in her manic movement; a small group play a ouija board as the table shakes through the sense of a spirit; ghostly figures caress and waltz with lifeless mannequins.
The dark claustrophobic setting is well captured through music, light and shadow, creating an intense, energetic 39 minutes of mannered theatricality, mime and dance.
Times: 20-21, 25-26, 29-30 August, 7pm