Image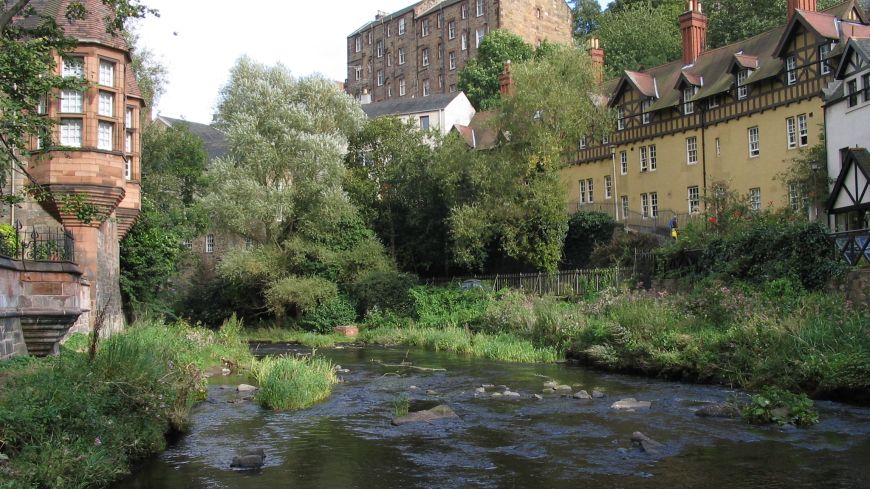 Hidden away at the foot of a steep cobbled hill, with the Water of Leith lapping beside it, and surrounded by verdant greenery, it's easy to forget that Dean Village is but a mere five minutes walk from the hustle and bustle of Edinburgh City Centre. It is also near Edinburgh's New Town and Stockbridge.
The name of the village comes from the word dene meaning "deep valley." In addition to the small business offices and residential tenement flats (the main block is in a quad shape with a shared courtyard at the centre), there has been a fairly substantial residential development on the North side of the Water of Leith.
The fact that the "village" has few immediate public amenities - shops, pubs, and restaurants are a short walk up the hill to Queensferry Street - has helped Dean Village retain its sleepy, picturesque character.
The Water of Leith shared walkway and cycleway connects the village. As well as families of ducks and the odd grey heron, you will see vestiges of Dean Village's grain milling heyday, which continued for around 8 centuries. Up to eight mills were once grinding away here powered by the strong currents of the Water of Leith.
One of the old mill buildings can be found directly under the monumental Dean Bridge. The awe-inspiring bridge was built in 1832, to the design of Edinburgh engineer Thomas Telford.
Dean Village is close to what was originally called Dean Gallery but is now known as Modern Two and the second modern art gallery in the Scottish National Galleries collection Modern One.
The faux temple and former spa St Bernard's Well is a short walk North along the Water of Leith.