Image
Image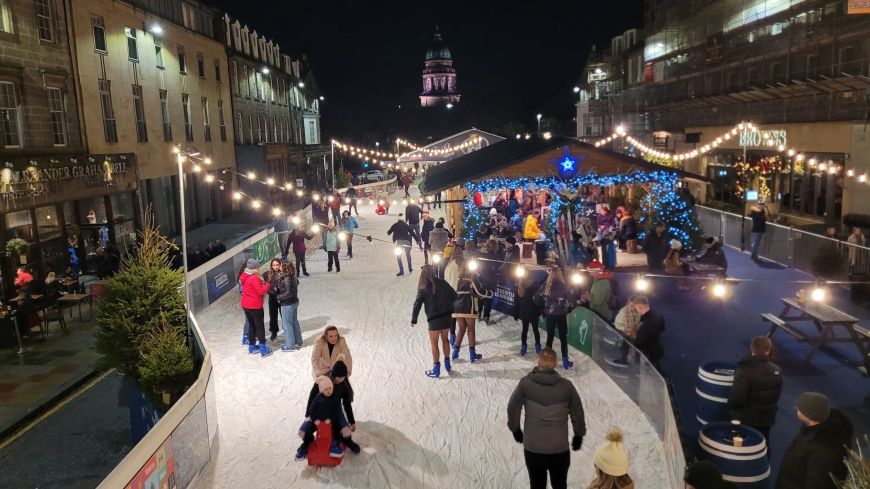 Street
115-141 George Street
This temporary ice rink from Belgium is one of the big attractions of Edinburgh's Christmas 2021. 
The ice rink is located at the west end of George Street, between Charlotte Square and Castle Street. 
Dubbed "Liddl on Ice", after the German grocery chain who is sponsoring it, skating at the "Alpine" rink is along a wavy, elevated track down the middle of the George Street, with a double pedestrian bridge over the top.
Stalls and bars on a rink-side platform offer drinks and hot food for non-skaters to enjoy while watching the skaters travelling back and forth.
Tickets
Time slots are for 45 minutes
£9.50-£13 (£6-£7.50 concession)
£24 for a family of 4
Christmas Ice Rink 3.0
Edinburgh's Christmas festival has had an ice rink in previous years, originally Winter Wonderland in East Princes Garden and then an "elliptical" rink that circled the Melville monument in St Andrew Square.
The ice rink moved from Princes Street garden to make way for an enlarged Christmas market. 
The new location at St Andrew Square lasted til 2018. In March 2019, due to the environmental impact and damage to the trees in the garden caused by the weight of the rink, stalls, and crowds, the business body representing owners of the garden, Essential Edinburgh, decided not to renew its contract with Edinburgh's Winter Festivals organisers Underbelly.
So this is the first time in three years that there has been a rink at the winter festivals and that part of George Street has been transformed into an ice rink.