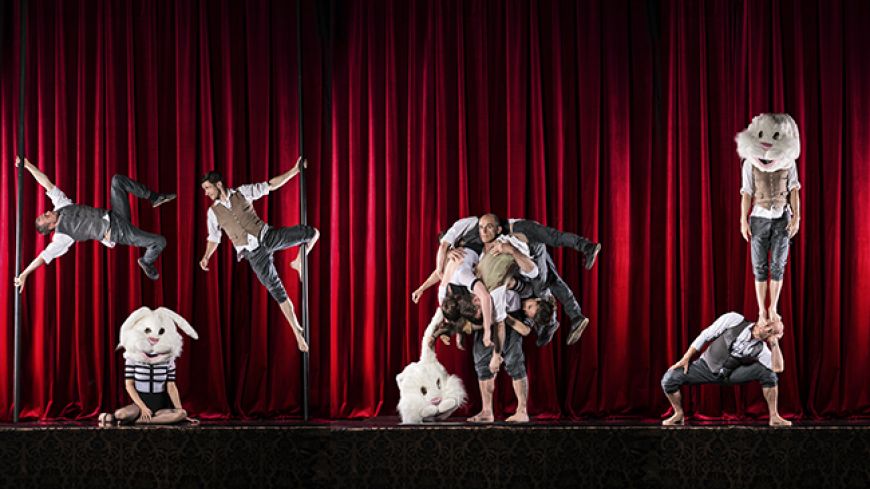 Production
Yaron Lifschitz (Director), Jason Organ (Technical Director & Lighting Designer), Libby McDonnell (Costume Designer)
Performers
Jon Bonaventura, Joren Dawson, Lisa Goldsworthy, Rowan Heydon-White, Birdie Hooper, Kathryn O'Keefe, Paul O'Keefe, Billie Wilson-Coffey
Solving the Rubik's Cube puzzle is a near impossible task in itself, never mind adding acrobatics into the equation. However, Circa defy the odds and bring their show, Beyond, to Underbelly's Edinburgh Christmas 2015 and make the impossible, well, possible.
Following their successful run at the Edinburgh Festival Fringe with Close up and Wunderkammker, Australian circus ensemble Circa are back in the capital with their Fringe 2014 hit Beyond.
They perform, in what feels like the perfect venue, The Paradiso Spiegeltent, which is reminiscent of the traditional and iconic 1920s big-top circus / cabaret performances it used to play host to. It creates a fun-filled, fairground atmosphere and shows the development in circus theatre. This became a prominent genre at this year's Edinburgh Festival Fringe where Underbelly founded the Circus Hub which promoted internationally acclaimed circus companies, including Circa.
Under the direction of Yaron Lifschitz, Beyond transports us to a dream-like world that goes beyond the norm and delights like a fresh ball of old-style, circus candyfloss (if only there were some!). However, there is more on the menu than desired candyfloss, the performers treat us to acrobatics, aerial artistry and snippets of clowning. There is a lack of thematic clarity for the performance and perhaps more concrete characters could have aided this. However, each performer is highly entertaining and outstandingly skilled in their flurry of constant tricks.
They begin, by weaving in and out of audience area in the Spiegeltent and invite the audience on a visually stunning and abstract journey through each of their adventures. They make the audience welcome and almost like the other performer in the show by involving their laughter, shock and joy throughout, making the room fill with a celebratory and energetic buzz.
This is a charming and at times breathtaking performance which combines the old and new. A delightful way to start the Christmas celebrations!
Run till 3rd January 2016, 7.30pm