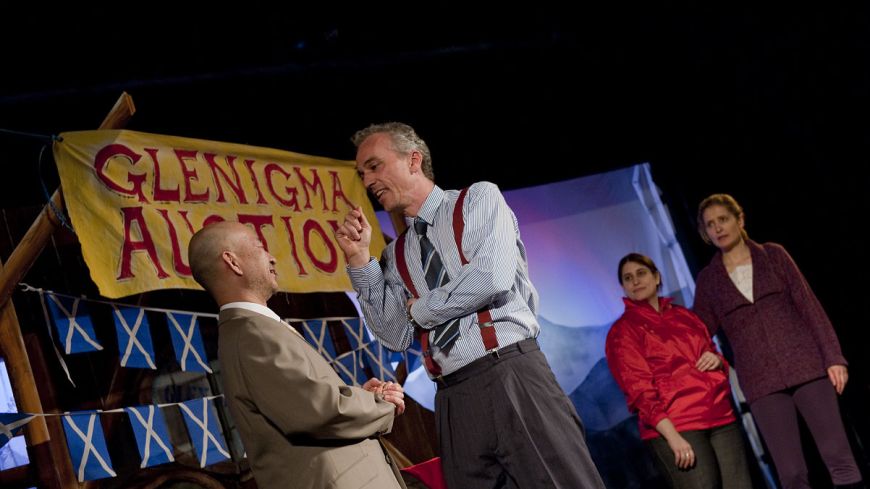 Company
Right Lines Productions
Production
Ian Grieve(Director)Euan Martin & Dave Smith(book&lyrics)James Bryce9composer)Karen McIver(Musical Director)
Performers
Alyth McCormack(Mary)George Drennan(Ben)Masashi Fujimoto(Yomo)
'Malt Disnae' a line delivered with comic timing about a proposed distillery theme park raised the loudest laugh of the night in this touring production of Whisky Kisses.
This is a new Scottish musical that was first created as an entry into the 'Highland Quest competition. Since then it has been produced in a variety of forms finally maturing into the finished product with its world premier early in May in a distillery in Dufftown. This was a part of a tour where the show has had a number of 'for one night only' visits and I caught up with the show in Musselburgh.
As this is a fully professional touring production, there is a cast of 8 seasoned actors without a chorus and without a great deal of scenery or technological trickery.
'Whisky kisses' has a good storyline with a couple of twists and turns that keep your interest to the end. The whisky is the famed 'Glenigma' and the fate of the last bottle from a distillery forced to close. Whisky collectors world-wide are interested but only 2 make the required journey to Scotland to attend the auction.
Having seen a condensed version at last year's Edinburgh Fringe, I was pleased to see that the part of 'Lachie' the distillery foreman had become more substantive and his irony was captured really well by Ron Emslie. All the cast handle their parts well with Trevor Allan Davies stepping out from behind the keyboard to play the part of the whisky preservation society man with a performance that led the cast to a rousing end to the first Act. The humour is gentle and the music style varies from songs with a highland lilt to parodies of Gilbert & Sullivan and the Broadway style opening. The main love interest is between the gay P.A. and one of the distillery workers while the relationship between the
American businessman (George Drennan) and the daughter of the late distillery owner (Alyth McCormack) is more subtle. The Japanese rival is played with considerable presence by Masashi Fujimoto although more could have been made of his ill-fated trip up the Ben. The lovers Dunc and Jeff played by Paul Harper-Swan and Kinny Gardner respectively get some of the best comic moments ably assisted by Alice from down-under played by Natalie Toyne.
This production was well received by a capacity audience at the Brunton but at times I felt like the designated driver at a ceilidh – a feeling that the reduced size of cast without the choreography and staging that I recalled from the version produced by the students of the RSAMD had changed and diminished the show. Like the distillery, Whisky Kisses' may need investment to reach its full maturity.