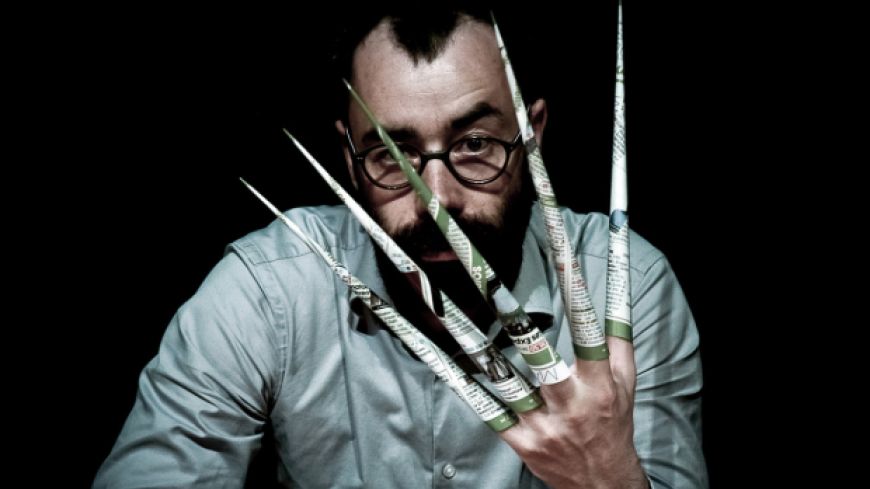 Company
Compagnie Sacékripa
Production
Sylvian Cousin (dramaturg), Pauline Hoa (technician), Isabell Trinquesse (producer)
Performers
Etienne Manceau (creator & performer)
Small wonders and everyday moments of magic are entirely what drives Vu, clowning at its finest. Who knew a cuppa could hold so much possibility?
Fidgety and obsessive, the idiosyncratic Man we see on stage always wipes his feet when he enters the "room;" he likes to arrange his possessions exactly and meticulously onto the small coffee table positioned in center stage. He's making a cup of tea. So simple, right?
Not a word is spoken in the 50 minutes spent with bespectacled Etienne Manceau, but he fills every second with subtle whimsy, intermittently built up to explosions (literally) of laughter, no matter what language you speak.
In a festival where the act of manipulation is at its core, this piece shines. The careful assembly of objects that he uses to turn into bits of intrigue is astounding: a kettle can become a catapult, straws become little udders for adding your milk, magazine pages can become long, pointy finger hats... and then candlesticks! The Man's methodical exactness paired with the eccentricity of pulling a seemingly unending array of odd things out of his veritable Mary Poppins' bag of a coffee table is a complete delight.
What you experience with Vu is not unlike Tape Face, but its detail makes the outcome far less showy and more cerebral, oozing with finesse and quirk.
Just as Roald Dahl says, "If you don't believe in magic, you will never find it." Dahl would have liked this one. Childlike and immensely playful, Vu is a refreshing break from a tech'ed out world. With Marie Kondo inspiring everyone to find what sparks joy within their household possessions, this production fits right into the mindfulness we desperately need, a reminder to relish simple pleasures and to laugh at our own nonsensical routines and rituals.
Vu ran on February 5th, 2019 within the manipulate Festival at the Traverse Theatre. For more on the festival offerings, visit the Traverse Theatre website.