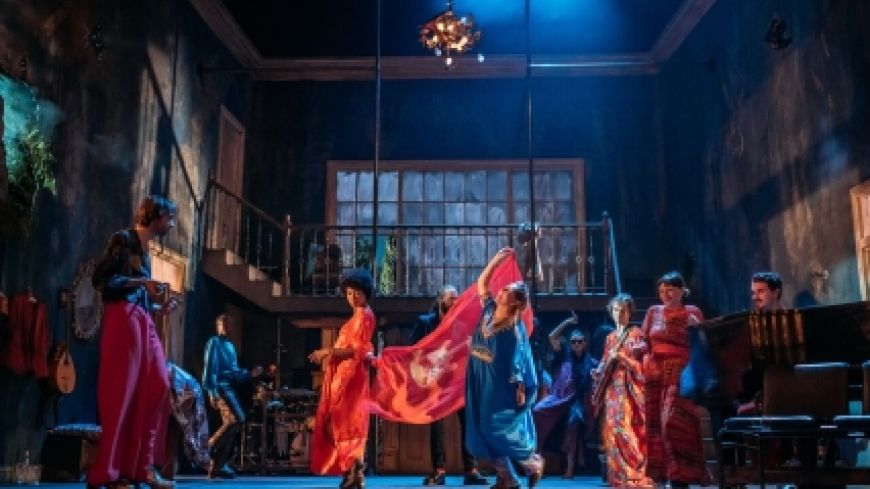 Company
Royal Lyceum Theatre Edinburgh and Bristol Old Vic
Production
William Shakespeare (writer), Wils Wilson (director), Ana Inés Jabares-Pita, (designer), Kai Fisher (lighting designer), Meilyr Jones (composer), Gregory Clarke (sound designer), Aly Macrae (musical Director), Eszter Marsalkó (dramaturg), Jennifer Logan (assistant director), Emma Jane Park (movement director).
Performers
Christopher Green (Malvolio), Lisa Dwyer Hogg (Olivia), Joanna Holden (Maria), Guy Hughes (Andrew Aguecheek), Meilyr Jones (Curio), Aly Macrae (Captain), Jade Ogugua (Viola), Brian James O'Sullivan (Antonio / Valentine), Dylan Read (Feste), Dawn Sievewright (Lady Tobi), Colette Dalal Tchantcho (Orsino), Joanne Thomson (Sebastian).
If music be the food of love, play on.
Welcome to the party - it has been going on for days and, perhaps fearing being washed up on the shores of routine and sobriety, the guests are raiding the dressing up box and putting on a show.
The play is, of course Twelfth Night, a feast of misrule where eccentric characters can change costumes, roles and even genders.
Love-sick Duke Orsino pines away over Countess Olivia, surrounded by androgynous courtiers in this corner of the kingdom of Illyria which has the faded grandeur of a late sixties commune or student squat.
This summer of love is about to get messy, with mistaken identity adding to the upending of order. When Viola is shipwrecked and her twin, Sebastian seems lost, she becomes male Cesario to gain a job with the count. Soon the love triangle is complete; Viola loves Orsino, Orsino loves Olivia, and Olivia loves Cesario - and everyone is unhappy, perfect.
Also miserable is Malvolio, the self-righteous steward to Olivia who can't let himself go and is trying to keep the decorum while house guest Lady Tobi is meanwhile turning the music up to 11 and living it large. Not that he is totally immune to the idea of change, seeing the blurring of class lines as beneficial to himself if only he could woo Olivia. In doing so he sets himself up as straight man to be deceived in a bit of farcical trickery at the hands of gentlewoman Maria, Lady Tobi and Andrew Aguecheek, a further, if hopeless, suitor. They sit back and grab the popcorn to watch his humiliation. This is going to be good. The one person who isn't being duped is Feste, fool to Olivia who often seems the wisest person in the room.
Being a romantic comedy most things will sort themselves out in the end, but it is free from the deception that love conquers all, and there is room to feel the sting for those who ultimately miss out.
This is an imaginative, exuberant and good-looking production, finely performed and directed, which harnesses the challenges to gender and class captured by the 1960's. The excellent music throughout uses both existing and new with a modern baroque, orchestral pop. The playful exploration of gender was written into the play, but new layers of mischief are added with even more swapping and with less than identical twins. It comes over as unforced, warm and never "an improbable fiction". Only a brief dalliance with audience participation in Malvolio's MOAI feels puzzling. The play-within-a-play idea is only briefly revisited.
A real feast of theatre where anyone can become anything, "or what you will".
Show Times: 14th September to 6 October 2018 at 7.30pm. Matinees from 19th September Wednesdays and Saturdays at 2.00pm. (26th signed, 27th audio described, 29th (2pm) captioned and audio described).
Tickets: £14 to £32.