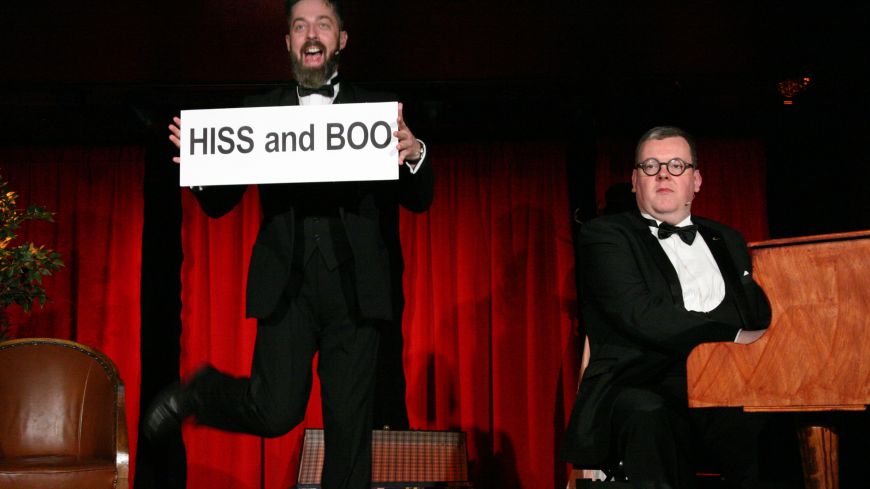 Company
A Play, A Pie and A Pint, Òran Mór and presented by the Traverse Theatre
Production
John Bett (writer and director), Andy Cowan (sound design), Ross Kirkland and Chris Reilly (lighting design)
Performers
Gordon Cree, John Jack
The names of Flanders and Swann may sound positively antediluvian to a young generation, but to the lunchtime audiences of A Play, A Pie and A Pint they are quite familiar. The musical duo, who entertained audiences between 1956 and 1967 with variations of their show At the Drop of a Hat , were known for their satirical comic songs performed under the formal guise of dinner suits and the pukka voices of their former places of study, Westminster School and Oxford.
Tipping the Hat is a playful evocation of Flanders and Swann's singular and eccentric form of entertainment that comprises a narration of the backgrounds of these friends along with impressive renditions of the dissident duo's classics such as I'm a Gnu, The Gas Man Cometh , and of course The Hippopotamus Song , that's better known as Mud, Mud, Glorious Mud .
The two stellar artists, Gordon Cree and John Jack, play the parts brilliantly, with terrific comedic skill and timing. They deliver the script's dry Scottish wit and asides with a cheery cynicism that's thoroughly enjoyable, each slipping from Home Counties English to Scots vernacular as easily as Jack makes his shedload of simple but effective costume changes.
The political credentials of Flanders and Swann are made clear in the play's treatment of Baron Beeching, the man who cut Britain's railway system to the bone in the 1960s. Their rendition of the song Slow Train, followed by the massive list of Scottish stations that also felt the axe, provides a thoughtful interlude.
John Bett has created a warm and genuine tribute to Flanders and Swann that's as full of gentle subversion as the original act thanks to the 21st century duo that tips a kindly hat (actually several hats!) to them with such an abundance of talent, proving there's plenty '[happening] after Newcastle'!
Tue 2 – Sat 6 Oct, 1pm; Fri 5 Oct, 7pm Age recommend 14+