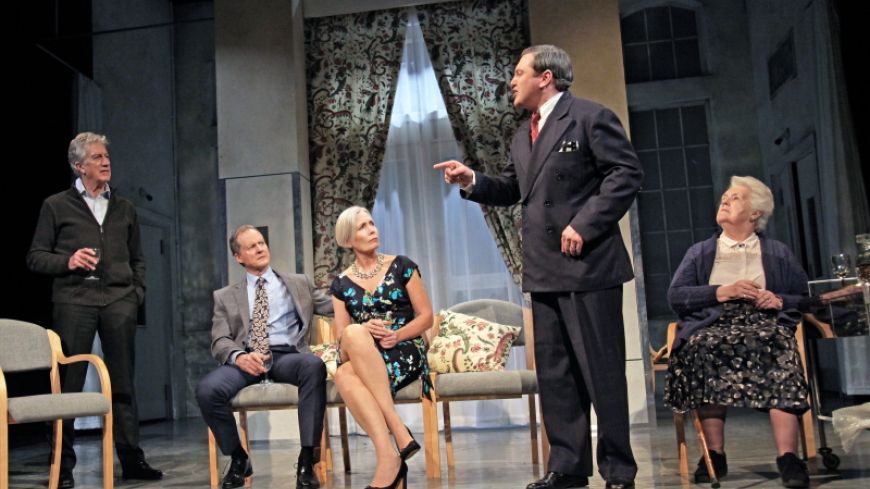 Company
Out of Joint and Octagon Theatre Bolton
Production
Stella Feehily (writer), Max Stafford Clark (director), Tim Shortall (set and costume design), Jason Taylor (lighting design), Andy Smith (sound design)
Performers
Stephanie Cole (IrIs), Brian Protheroe (Nicholas / Prime Minister), Hywel Morgan (Aneurin Bevan / Danny / Terry / Archie), Tristram Wymark (Winston Churchill / Mr Weaver / Roger / John / Milton), Jane Wymark (Mariel / the NHS), Frances Ashman (Tabitha / Dinah / Bea / Dr Grey), William Hope, Hank / Miles / Sam / The Grim Reaper) Natalie Klamer (Gina / Cassandra / Aly / Wendy)
Stella Feehily's 'This May Hurt A Bit' is, in some ways, a play about nostalgia, and is none the worse for that. Clearly deeply felt and at times righteously angry, Feehily asks what many of us have – 'what's gone wrong with the NHS?'
'This May Hurt A Bit' at times dons the mantle of multi-viewpoint morality tale reminiscent of the work of David Edgar, at others the examination of an institutions shortcomings in the manner of David Hare.
Feehily is her own woman, however, and tells her own story of how the NHS in England came to be where it now appears to be. She does so through the experience (in particular) of one family – Stephanie Cole's wonderfully cantankerous matriarch keeps the lid on the sibling rivalries of Brian Protheroe and Jane Wymark while contemplating her own eventual demise.
Cole's character has a clear memory of the origins of the NHS and is understandably baffled as to how it has come to endure top-down re-organisation, a 'culture' of target hitting and obsession with 'customer satisfaction'.
There are moments of great wit, fine characterisation and humanity in Feehily's script, and the excellent cast grab all of them with both hands, but didacticism tends to win out over storytelling, and it sometimes feels very much as if we are being told, not shown.
The elephant, perched uncomfortably beside this reviewer, meanwhile, was asking the awkward question of why we were watching a play whose subject matter provoked remembrance of a line from Brian Friel's 'The Freedom of the City' – 'if it's not about us, it has nothing to do with us'.
Parochialism of any sort has no place in theatre, but Feehily's play is very much of its time and location, and this feels as if it is a story from another country, where they do things differently.
Although it is a devolved power, we have no certainty that health provision in Scotland will be spared the current reforms the NHS is undergoing in England. However, attitudes are, and hopefully solutions may yet be, different.
Discussion of that point is clearly beyond both this review and what 'This May Hurt A Bit' set out to achieve, but one hoped it figured in the post-play discussion.
Runs til 12 April, 2014