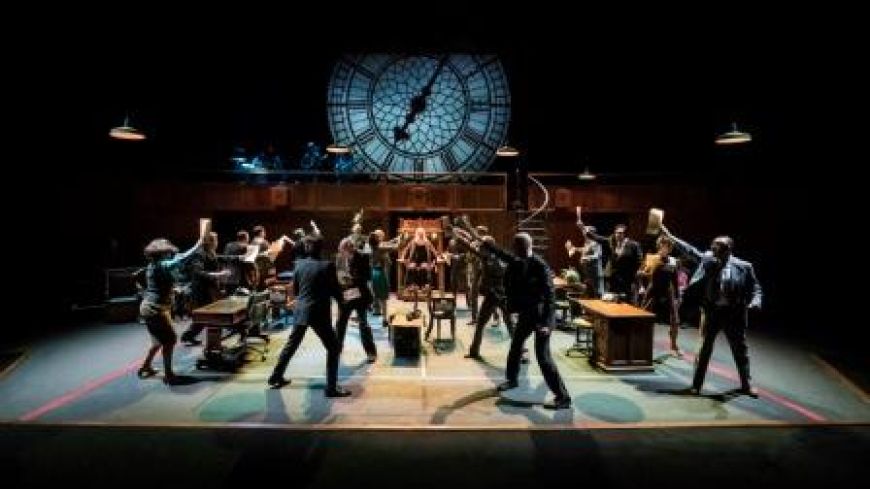 Company
Jonathan Church Productions and Headlong present the National Theatre & Chichester Festival Theatre production
Production
James Graham (writer), Jeremy Herrin & Jonathan O'Boyle (directors), Rae Smith (designer), Paule Constable (lighting designer) Stephen Warbeck (music), Scott Amber (choreographer), Ian Dickinson (sound designer).
Performers
Martin Marquez (Bob Mellish), James Gaddas (Walter Harrison), Tony Turner (Michael Cocks), David Hounslow (Joe Harper), Natalie Grady (Ann Taylor), William Chubb (Humphrey Atkins), Matthew Pidgeon (Jack Weatherill), Giles Cooper (Fred Silverster), Geoffrey Lumb, Ian Barritt, Nicholas Lumley, Harry Kershaw, Miles Richardson, Stephen Critchlow, Orlando Wells, Louise Ludggate (various roles), Ian Houghton, Marcus Hutton, Charlotte Worthing (ensemble), Tom Green, Johnny Wells, Nadine Lee (musicians), Martin Marquez & Geoffrey Lumb (guest vocals).
This House, set in the Parliamentary Whips' offices during the turbulent five years of 1974-79, opens an astonishing window onto how a Labour party, with a tiny majority over the Tory party, battles to maintain power through a series of backroom deals, forced alliances and shady allegiances with the 'odds and sods' that include the Liberals, Scots, Welsh and Irish, who make up the remainder of the MPs.
The drama lies in showing how Labour held on by their skin of their teeth, just scraping through votes often by a majority of one, and only managing to do so by dragging in the sick and the dying, or even commandeering an RAF helicopter to fly in one MP, who lands in the nick of time. The play also elucidates in often hilarious, convoluted detail the peculiar and antiquated traditions and rituals that govern the day-to-day workings of the Commons and the way the two-sided system is set up to actively discourage cross-party cooperation.
Rae Smith's set design has Big Ben looming in the background, its need of repair and temporary shut-down a metaphor for the creaking parliamentary system as a whole. The stage area has become the House of Commons Chamber – with fewer seats on which a few members of the audience sit – but clever and intricately choreographed direction from Jeremy Herrin and Jonathan O'Boyle turns the space into the Whips' offices, meandering corridors and underground spaces, all ripe for setting up secret assignations in which to conduct ethically dubious and dodgy deals. A hidden hatch in the back wall of the Chamber rises on occasion to become the serving hatch of one of the many Commons' bars that serves real beer to audience members during the interval.
Within James Graham's blistering script over 50 MPs either appear or are referred to, which is at times bewilderingly confusing but deliberately so, the drama increasing with the struggle to keep up with who is now on whose side, knowing how it all ends in that fateful vote of no confidence in 1979, when the beleaguered Labour party lose by just one vote after failing, with a rare act of conscience, to call in terminally ill MP Alf Broughton.
This period of recent history shares many parallels with today's political climate: a referendum on Europe (going resoundingly the other way in 1975); a weak government with a slim majority forced to make unholy alliances; issues around Scottish devolution were on the table then as now; the shadow of a prevailing austerity, then a stock market crash that led to rising inflation, now the aftermath of the financial crisis of 2007; and the seemingly timeless struggle between personal ideology and the uncomfortable realities of getting the job done – party first or country first.
It's an unmissable piece of brilliant theatre about a remarkable time in British political history that shows all too clearly the dire need to overhaul the whole crumbing shebang.
Runs 27th – 31st March