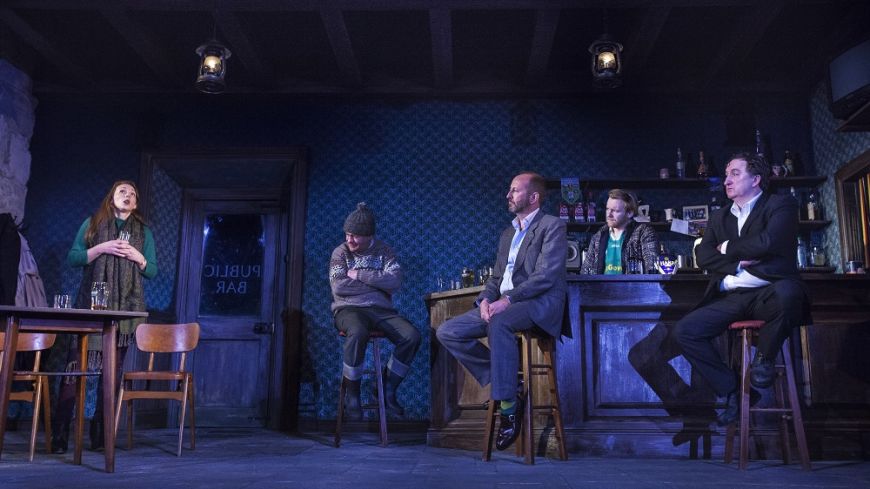 Company
Royal Lyceum Theatre Company
Production
Conor McPherson(writer), Amanda Gaughan (director), Francis O'Connor (designer), Simon Wilkinson (lighting designer) Michael John McCarthy (composer and sound designer)


Performers
Brian Gleeson (Brendan), Frank McKusker (Finbar), Gary Lydon (Jack), Darragh Kelly (Jim) and Lucianne McEvoy (Valerie)
The Weir opens on a driech January Edinburgh night when it's easy to imagine stepping through the door of Brendan's Bar yourself and stamping your feet against the smirr that's falling steadily through the line of squinty telegraph poles outside its door. You might be in a theatre seat, but could be sitting at a quiet table in that establishment with 'a small one' and lugging in to the chat that's going on around you, such is the fine mesh realism in Conor McPherson's acclaimed play.
Brendan (Brian Gleeson) runs the drinking shop that is the local and second home for garage owner and long term bachelor Jack (Gary Lydon), and odd job man Jim (Darragh Kelly), who lives with his aged mother who's been 'fading fast for years'. The gossip is that a young woman, Valerie (Lucianne McEvoy), has appeared in town and is being shown around by the married local businessman Finbar (Frank McKusker). The couple's arrival in the bar is a catalyst to a series of storytelling from each character, apart from Brendan the barman whose attentiveness throughout is unswerving. The stories about odd knockings, strange hauntings and ghostly perverts are spooky and part of the local folklore that may have had bells added over the years in the telling. Each grips and gives a shiver like an episode of Fear on Four but when it's Valerie's turn, her tale is altogether more arresting.
Performed at a natural pace under Amanda Gaughan's astute direction, the characters' routines and mutual familiarity ring utterly true. Minute particulars, like the wine being served in a tumbler and the silent subtext about Harp drinkers, are nuances that marry with the universal barroom philosophy, male stand offs and pub insults borne of intimacy and history to give the piece real believability.
Plaintive strings from Michael John McCarthy set the tone of loneliness and the bar room is brilliantly realised in Francis O'Connor's immaculately detailed design but it is the realisation of these regulars from this five strong cast that makes this exquisitely written play, that's smattered with dark humour, the riveting, intimate experience it is. Lucianne McEvoy brings a quiet light to this backwater as the 'blow in' Valerie. Outstanding though is Gary Lydon who inhabits his character Jack as easily as Jack inhabits Brendan's Bar and belies his toughness with his delivery of a personal story that gives a different shiver.
While storytelling and craic are at the core of this play, it is shaped as much by the silences; the space in between; the listening, all reminders that a story needs an ear and we all need to be heard.
15 January – 6 February 2016