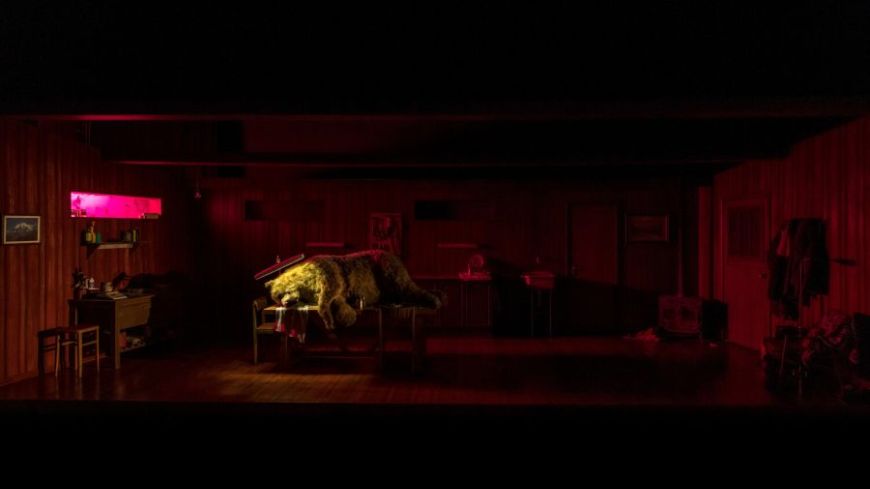 Production
Oliver Emanuel (writer), Gareth Nicholls (director), Tigger Johnson (lighting designer), Cécile Trémolières (set & costume designer), Oğuz Kaplangi (composer & sound designer), Sarah Hughes (casting director), Jordan Blackwood (assistant director)

Supported by a Federation of Scottish Theatre Assistant Director Bursary with funding from Creative Scotland

Performers
Charlene Boyd (Beth), Christine Entwisle (Margaret), Tanya Moodie (Bear)
There's a storm a-comin', and it comes barrelling in with daughter Beth, as she drops in unexpectedly on mother Margaret (Mag) after years of separation. Mag has reinvented herself. She's living in remote Canadian wilderness as a meek taxidermist, having long since fled her life in England as an assistant pharmacist who moonlights as a violent alcoholic. Beth, star of her prison's book club where she discovered her love of Mary Shelley's Frankenstein, has been released from jail and has hunted down her dear mother - she has a question and needs to hear the answer.
The Monstrous Heart has a stellar all female cast, including the massive bear, set designer Cécile Trémolières' 3D-printed "Elsie", the Canadian grizzly which sits massive and looming over nearly all of stage right, lying limp, freshly killed, on the kitchen table, inviting intrigue and curiosity. 
Charlene Boyd as Beth is dynamic, bursting with concentrated energy, moving between a goading and erratic destructiveness and a wounded vulnerability. There's a Natasha Lyonne way about her...if Natasha Lyonne were frae Scotland, hen. 
There are many powerful adjectives that you could ascribe to Christine Entwisle as mother Margaret- enveloping or engrossing, perhaps. More simply put, Entwistle is a phenomenal actor. There are no throwaway moments or motions from either of the sparring opponents in this thrilling two-hander. Both Entwisle and Boyd, as the volleying pair of creator and created, respectively, are so captivating, in fact, that you find you've quite quickly forgotten the massive bear in the room...until it gets a voice of its own. Yes, the bear gets a monologue. In this interlude/fever dream, the bloody bear has an eerie rant, and the results are enigmatic at best and underwhelming at worst. 
Laced with black humour and a bold, suspenseful edge, The Monstrous Heart digs at inherited trauma and unforgivable mistakes...and when efforts to repair them are fruitless. It explores the question, "Who is the real monster: the created or the creator?" and ponders the value, if any, of blame. In this chilling, perfectly allegorical Frankenstein story, a nature versus nurture debate begs us to ask ourselves if we can ever escape our true nature and if what's dead can ever be resurrected to true life again. 
Full price £20 / Standard concession £16 / U30s £14 / Students £14 / Other concession £5 / Preview £5-£15
Age Guidance 14+