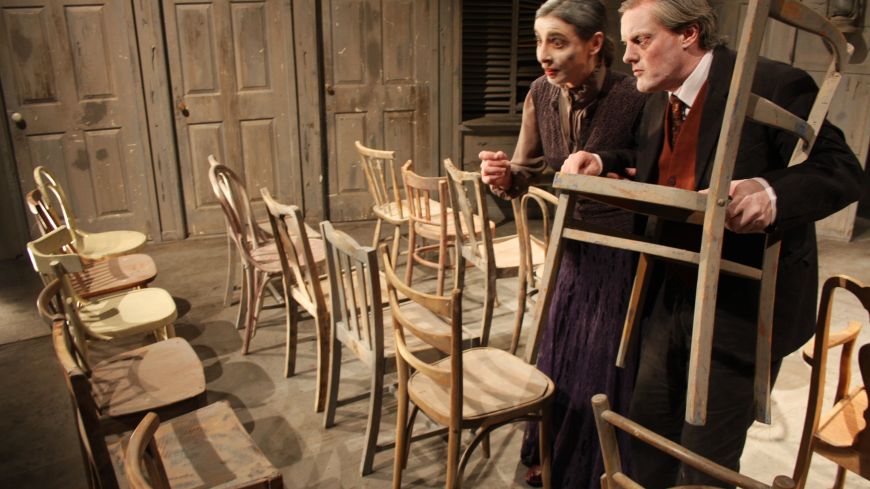 Company
Blue Raincoat Theatre
Production
Eugene Ionesco (writer), Niall Henry (director), Jean Marie Peronetti (assistant director), Jamie Vartan (designer), Michael Cummins (lighting design), Joe Hunt (sound design), Peter Davey (production manager), Peter Crann (photographer)
Performers
Sandra O' Malley (The Old Woman), John Carty (The Old Man), Ciaran McCauley (The Orator)
Eugene Ionesco was a Romanian dramatist who made Paris his home.  He was one of the theatrical revolutionaries who "helped inaugurate the Theatre of the Absurd" after writing  a one act 'antiplay', La Cantatrice Chauve (The Bald Soprano) in 1949.
It is fitting that this contemporary of Beckett is performed by the well-established Sligo Ireland based theatre ensemble Blue Raincoat, who stage and tour with modern European classics, as well as new writing and adaptations such as the work of Flann O'Brien.
In the semi-circular set of grey wood, with nine doors, slatted windows and two chairs we meet the Old Man (John Carty) and the Old Woman (Sandra O' Malley) who, like their surroundings, look as though they'd been powdered by a blackboard duster.
They are reaching the end of their lives together and the time has come for The Message to be told to the world. They have spent their life in this lighthouse where he has been the general factotum and she has cared affectionately for her dusty darling who could have been head of anything at all only 'for want of ambition'. 
The great and the good from the town and their past - old friends and lovers; the town dignitaries from the Mayor to the Emperor himself - are summoned to hear the story to be told by The Orator.  It is like the dream where everyone from one's life is dreamt of before death.
Marvellously choreographed, the two characters move in and out of the set like weather figures as more and more chairs are required for the ever increasing assembly of guests.  The pace increases and doors start opening themselves to a crescendoed cacophony of carillon.
Throughout, the Man and Woman (who by chance put me in mind of Denzil and Gwenedd, two of the characters from the surreal comedy series of the 1980's, Absolutely) carried out social niceties that took them through the gamut of human feelings as they use  this  last chance to  come to terms with their life, their hopes, their dreams.
Once they have left the scene to the sound of a crashing splash, The Orator (Ciaran McCauley) takes the stage and speaks in an utterly incomprehensible language, so the conclusion is:  There is no conclusion. 
This was a formidable and brilliant interpretation of a sublimely absurd play, performed with superb and subtle comic skill.   
The blackboard told us that Angels Weep.  Maybe they do, but the Traverse audience did not.  An off-the-scale production from Blue Raincoat.
Tour continues