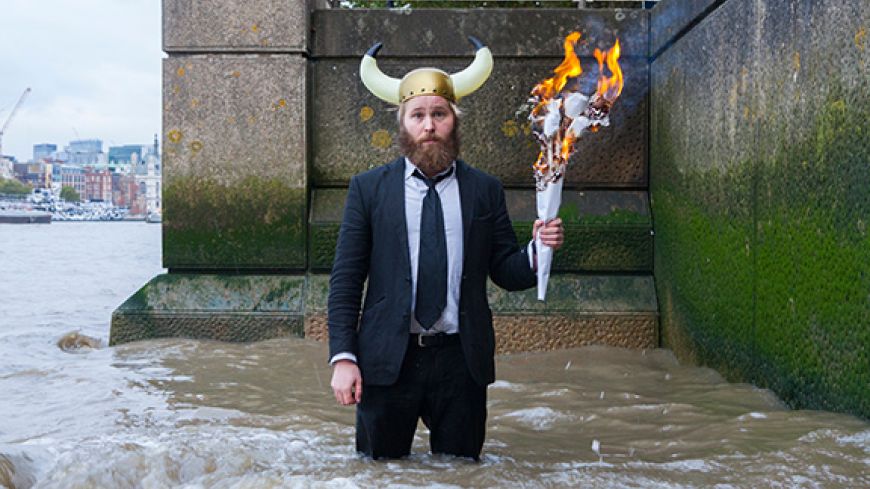 Company
Tangram Theatre Company
Production
James Rowland (Writer); Daniel Goldman (Director); Rosie Collins (Photographer)
This show is the first part of a trilogy of tales looking at James Rowland's life and his friends. Each piece of storytelling can be viewed independently, or one after the other – Saturday features all three shows in order.
What really works with Team Viking is how open and friendly Rowland is: he invites the audience into his world and we easily follow. Quirky, charming and endearing, James Rowland is engaging as he opens with a chat to the audience, then moves into performance. With a slightly dishevelled, semi-funereal look, Rowland takes us through his childhood, friendships and the challenges he has along the way.
For a show that deals with the impact of death and grief, there is much humour threaded throughout as we go on this journey of childhood friendships, recall the imagination of children at play and the devastation of unexpected illness. The mood changes between humour and grief are beautifully handled by Rowland with silences that are full but not forced and draw us in. Rowland makes it look deceptively simple – these silences hold us as we recognise the impact of loss.
As the title implies, songs are key to this and the sounds – and eventual song – that are interspersed between the different sections of the story, add to an interesting denouement. Ultimately life affirming, this is a gem of a show that can make you laugh unexpectedly in one moment, and hold back the tears in the next. A reminder of how short life truly can be.
Times: Songs of Friendship: Team Viking - Saturday 14 March @ 6:00pm;  
Songs of Friendship: A Hundred Different Words for Love – Thursday 12 March @ 8:00pm, Saturday 14 March @ 7:30pm
Songs of Friendship: Revelations – Friday 13 March @ 8:00pm, Saturday 14 March @ 9:15pm
Tickets: £5-£15 (individual)  or £15-£27 (all three)