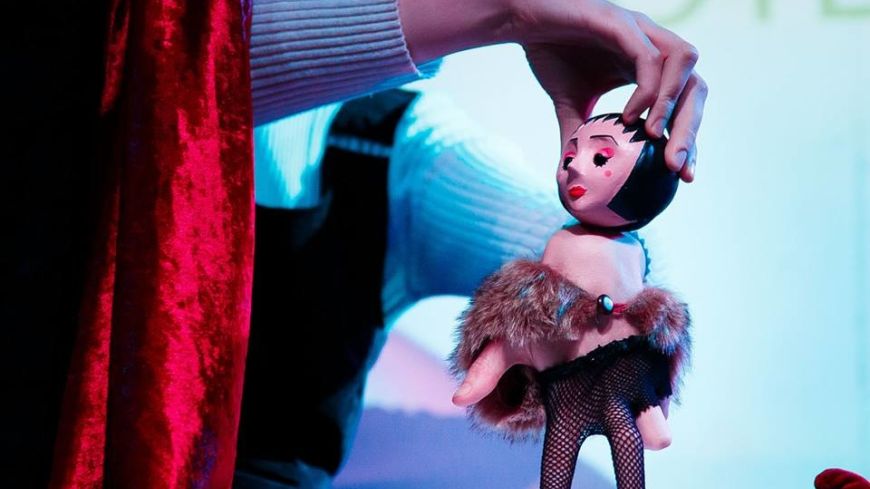 Performers
Ella Mackay (creator/performer), Emma King (creator/performer), Freda O'Byrne (creator/performer)
Snapshots 4 showcased three new works by three performers and recent graduates of the Curious School of Puppetry, each a work in progress and a conceptual teaser of more developed works to come.
FINGER FATALE
Burlesque like you've never seen it before. Ella Mackay lights up a tiny velvet stage with a striptease via...her hand. If Addam's Family's Thing and Mae West had a brainchild, it would be this quirky work-in-progress performance. Silliness, sexiness, invention abound. Surely a perfect fit as a knockout feature within a variety or cabaret production.
REX
This act of puppetry sees Emma King bring her tiny dinosaur pal, Rex, to the stage to show her class (the audience) an exotic treat. The construction of the puppet hits the target, but the piece lacks aim, ending with a sudden nod to bestiality that feels a bit arbitrary.
RENDITION
Tiny artificial candles line the sides of the stage while paper cut outs of planes hang from a metal apparatus. A bag hung from a barrier is revealed by performer Freda O'Byrne to hold a naked, faceless marionette that is the puppet representation of Abu Zubaydah, the first suspect to be taken into CIA detention. This work-in-progress piece, while having plenty of apt metaphor, explores too many ideas and props, and ends up losing the impactful narrative that is, demonstrably, there. Without knowing in detail the story of Abu Zubaydah, much of the imagery can risk getting lost: Rendition's feature of hand signals along with speech could be referencing the fact that investigators used hand signals alone to speak to this prisoner; the discourse including an additional detainee, while spoken through effective props and poetry, muddies what understanding of Zubaydah the audience manages to manifest. Overall, this piece would work better if presented in distinct vignettes, and if more presentation could be done to educate the audience on the detainee/s and the ways, and the debate around the ways, the American and UK governments act outside the law when threatened or attacked.
Snapshots 5 will occur on Saturday February 3rd from 6pm, free but ticketed.