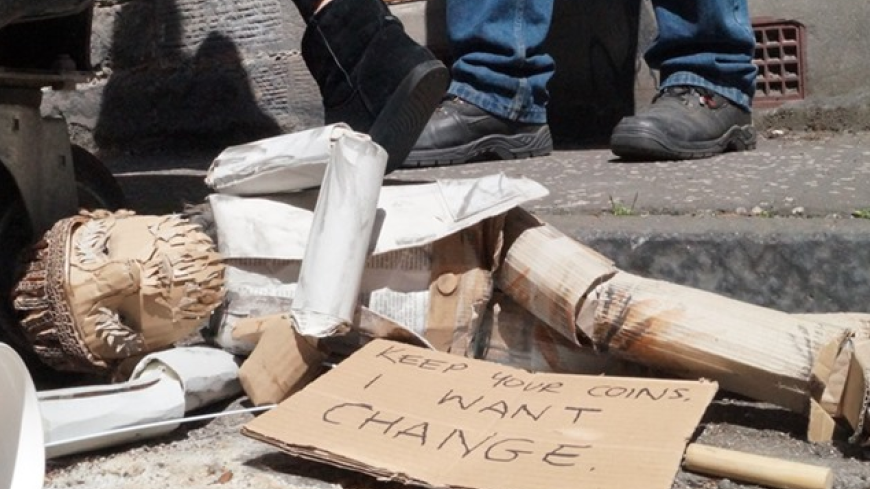 Company
Curious School of Puppetry with Puppet Animation Scotland
Production
Simon Hart (Artistic Director), Heidi Gordon (Administrator), Melanie Purdie (Festivals & Projects Manager), Mayanne Soret (Digital Communications Assistant), Nick Wong (Associate Producer), Stewart Armstrong (Brochure & Festival Trailer Design), Jenny Gilvear (Festival Assistant), Joy Jin (Festival Assistant), MatoSilva (Festival Videographers), Anna Rogers (Festival Films Technician), J Thomson Colour Printers (Brochure printing), Eleanor White (Festival Photographer)
Performers
Finding Shelter: Pippa Church (creator/performer), Katie Williams (creator/performer)

The Heart is Asleep: Borbèla Mezö (creator/performer), Elspeth Chapman (creator/performer)

Antibiotic Apocalypse: Alumdena Adalia (director/performer), Elspeth Chapman (performer), Charlie Daniels (performer), Pili de Grado (designer), Alex Kirkland (writer), Stacey Mitchell (performer), Ewa Wawreniuk (performer)
Snapshots is a series produced under the manipulate Festival, Puppet Animation Scotland's annual celebration of innovative visual theatre and animated film. This series highlights different work-in-progress pieces by Scottish-based artists. Snapshots 1 featured three works by the graduates of the Curious School of Puppetry.
FINDING SHELTER, the first of the three pieces, opened on a cardboard box city and a focus on a small, feeble puppet we later learn is Tom. A little mouse on a marionette scurries across the floor; angry recordings of verbal abuse are heard. Through multimedia applications of audio, visual projections, shadow work, and puppetry, you see a glimpse of the world through the eyes of someone experiencing homelessness. Sorrowful and contemplative, Finding Shelter is still finding its voice, but it is a piece worth developing in a country where homelessness has started to rise for the first time in nine years.
THE HEART IS ASLEEP is a billed as "a story told through objects, drawing, music and micro-cinema." The story is sparse, but the mediums are notable. Projections of hands making swing dance moves to 50s rock and roll are projected onto a man's white button-down shirt, signifying a couple's first meeting; love letters turn into paper dolls. László is the man being remembered; his love for Morag and the tale of his life is unpacked on stage, or it would have been if there were more of the story being told. Dialogue is split between Hungarian and English, which will be a nice feature when more of the story is first developed.
ANTIBIOTIC APOCALYPSE is a funny twist for the evening. This WIP's protagonist is a bacterium known as staphylococcus, a sassy, athleisure-sporting, vibrant character. Heavy rock plays while nurses examine a patient, and this girly germ is all about the fight for a better life, surviving and defeating the dreaded antibiotics. This one is playfully innocuous about inoculation.
manipulate Festival runs until Feb 9, 2019. Tickets for the festival can be booked through the Traverse website or by calling the Traverse box office on 0131 228 1404.