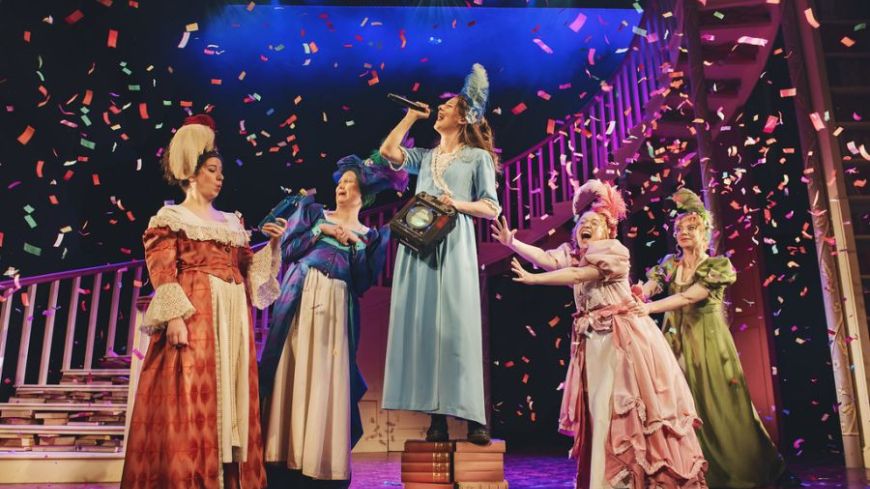 Production
Isobel McArthur (Writer and Director), Simon Harvey (Director), Ana Inés Jabares-Pita (Design), Colin Grenfell (Lighting Design), Jos Houben (Comedy Staging), Michael John McCarthy (Musical Supervision and Sound Design), Emily Jane Boyle (Choreography), Niamh Gaffny for Autograph Sound (Sound Design), Sarah Bird (Casting Director), David Pugh (Producer), Tron Theatre (Original Producer), A Tron Theatre Company, the Royal Lyceum Theatre Edinburgh and Blood of the Young's production with co-producers Birmingham Repertory Theatre, Bristol Old Vic, Leeds Playhouse, Northern Stage and Oxford Playhouse (Co-producers)
Performers
Tori Burgess (Maid/Mary/Lydia/Mr.Collins/Aunt G)
Christina Gordon (Maid/Jane/Mr. Wickham/Lady Catherine de Bourgh)
Leah Jamieson (Maid/Elizabeth)
Hannah Jarrett-Scott (Maid/Charles Bingley/ Caroline Bingley/ Charlotte Lucas)
Isobel McArthur (Maid/Mrs.Bennett/Mr.Darcy)

The most important thing to note in Pride and Prejudice* (*Sort Of) is the asterisk - because if you're expecting to watch the stage recreation of Austen's most beloved novel, you'll be in for a bit of a surprise.
But what a surprise it will be! This five-woman ensemble show is exploding with energy, hysterical one-liners, impressively fast costume changes and perfectly sequenced quips. And while not a musical per se, with a cleverly hidden microphone making an appearance and portable karaoke machines, songs like You're So Vain, Holding Out For A Hero, and Young Hearts Run Free added an even deeper level of fun.
Operating like a well-oiled machine, the cast seamlessly swap through costumes, props, accents and even instruments (harp, trumpet, piano, percussion, and guitar). 
Each woman was electric, bringing the classic parts of the characters to life but somehow finding a new dimension within each one.
Burgess possibly gets the loudest laughs with her zany portrayal of Lydia Bennett, the family's wild child, and somehow making Mary Bennett, who is known to be the boring one, not boring in the least. 
Gordon is sweet as Austen wrote Jane to be and pulls off a convincingly wanna-be cool guy Wickham but shines brightest as the ever regal and posh Lady Catherine de Bourgh in a hat almost as big as she is. 
Jarrett-Scott was as charming as Charles Bingley but made the audience hysterical with her perfected Caroline Bingley's "pick-me-girl" aesthetic. It was the perfect balance to the more sombre moments of Charlotte Lucas, life for a queer woman in a world that couldn't yet exist.
Jamieson slipped into the fiercely loyal, stubborn, and strong-willed Elizabeth Bennet glove with ease; watching her discover to her great shock, that she loved Darcy brought as much joy to the audience as any first-time reader would feel. 
However, watching McArthur, as both the excitable, meddling and always-has-something-to-say-about-everything Mrs Bennett and the brooding, closed-off, and yet ever-dreamy Mr Darcy, was the highlight of the show. 
McArthur took the story of the Bennett women and, while keeping true to the plot and themes, brought it to a 21st-century audience with the perfect balance of old and new. She also brought a healthy Scottish twist, including cans of Irn Bru, buckets of Tunnocks at the Meryton Ball, and a few well-placed "twats" in the dialogue.
18 October - 5 November 2022
EVENINGS, 7.30pm
Tuesday - Saturday(+ Monday 24 & 31 Oct)
MATINEES, 2.30pm
Wednesday & Saturday