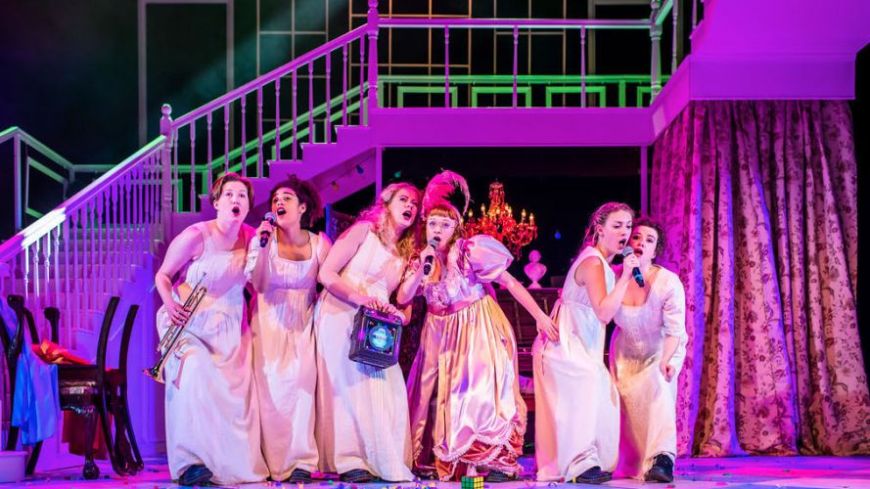 Company
The Royal Lyceum Theatre, Tron Theatre Company and Blood of the Young, co-production partners Birmingham Repertory Theatre, Bristol Old Vic, Leeds Playhouse, Northern Stage, Nuffield Southampton Theatres and Oxford Playhouse.
Production
Isobel McArthur (Writer, after Jane Austen); Paul Brotherston (Director); Ana Inés Jabares-Pita (Designer); MJ McCarthy (Musical Supervisor); Simon Hayes (Lighting Designer); MJ McCarthy (Sound Designer); EJ Boyle (Choreographer); Shilpa T-Hyland (Associate Director); Johnny McKnight (Dramaturgy); Anna Orton (Associate Designer); Calum Paterson (Associate Sound Designer); Laura Donnelly CDG (Casting Director - Additional Casting); Mihaela Bodlovic (Photo credit)
Performers
Tori Burgess (Lydia, Mary, Anne, Mr Gardiner); Felixe Forde (Kitty, Maisie, George Wickham, Mr Collins, Mrs Gardiner); Christina Gordon (Jane, Lady Catherine, Clara); Hannah Jarrett-Scott (Mr Bingley, Tillie, Charlotte Lucas, Miss Bingley); Isobel McArthur (Mrs Bennett, Mr Darcy, Flo);
Meghan Tyler (Elizabeth, Effie)

Isobel McArthur's witty, effervescent and high-energy whirlwind through the story of the Bennett family is a joyous celebration of storytelling with a good dose of singing and dancing added into the mix. This is Jane Austen's Pride and Prejudice but not as you'd know it, hence the *Sort Of declaration in the title. McArthur keeps the bones of Austen's story but packs in a great deal of quirky humour that has the audience laughing out loud for the majority of the show. McArthur's writing is sharp, deceptively open and self-aware which keeps the pace going and adds unexpected depth to the characters.
Tongue-in-cheek direction from Paul Brotherston is clear and precise, allowing the swift changes between scenes and characters to appear effortless, with the cast handling these deftly. There is an undercurrent of fun throughout these changes – and indeed the whole play - which really works.
The comic timing in the extremely talented cast adds to the nuances in the writing, which is milked for all its worth. Within this however, McArthur's script manages to also educate without preaching about the reality of being a woman in the days of Austen, when genteel women had limited choices.  
What gives strength to this particular version of Pride and Prejudice is the way in which the cast portray their characters within this wonderfully eclectic mix of modern elements among the Regency clothing and manners: there are well chosen pop songs and karaoke classics, acutely observed current references and a subtle linking of modern perspective to the past. These characters are heightened but still recognisable, some that the audience love to hate, others that the audience simply love. From the haughtiness of Miss Bingley, to the boring Mr Collins, to the imperious Lady Catherine, to the various Bennetts in-between, the characters are both familiar and new. This ensemble is a genuine team and demonstrates a skill for humour which the audience instinctively responds to.
Austen fans who favour the pure approach may not find this a good fit, but for those looking for a new take on an old classic: it's a ball, you have all been invited and as a cure for the January blues, there is little to beat it.
Times: Saturday 25 January – Saturday 15 February @ 7:30pm (not Sundays or Mondays); matinees Saturdays & Wednesdays @ 2:00pm Audio Described: Thursday 6 February, 7:30pm (touch tour – 6.15pm); Captioned & Audio Described: Saturday 8 February, 2:00pm (touch tour – 12:45pm); BSL Interpreted: Wednesday 12 February, 7:30pm
Tickets: £14.00-£33.00
Photo: (L-R) Hannah Jarrett-Scott, Felixe Forde, Meghan Tyler, Tori Burgess, Christina Gordon, Isobel McArthur; Photo credit Mihaela Bodlovic