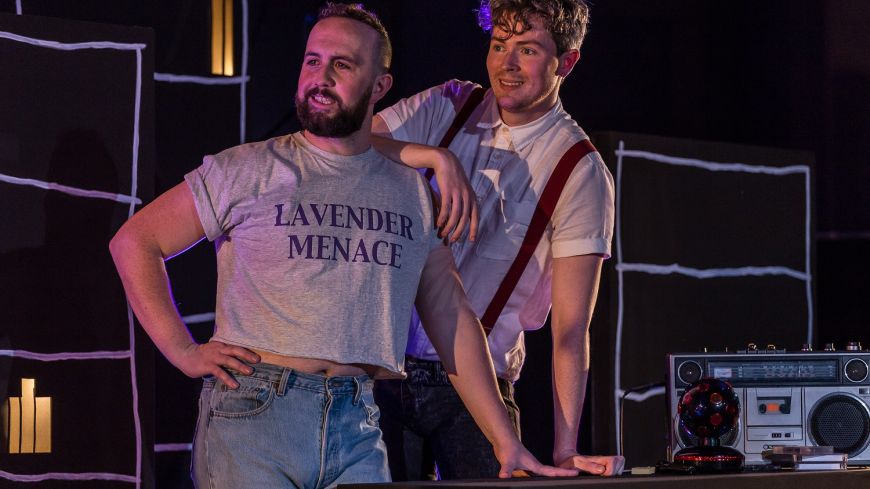 Company
James Ley in association with the Royal Lyceum Theatre
Production
James Ley (writer), Ros Philips (director), Mamoru Iriguchi (designer), Laura Hawkins (lighting designer), Kevin Murray (sound design), David Greig and Ros Philips (dramaturgy)


Performers
Matthew McVarish (Glen), Pierce Reid (Lewis) with writer Dan Gray as guest star on 13th August
In the middle of Margaret Thatcher's icy reign over the UK, parts of Edinburgh may have been checking if visitors had had their tea as they wrapped fur coats round knickerless backsides, but other parts were host to quite different pursuits.
1982 saw the opening of a radical new LGBT and Feminist Bookshop by Bob Orr and Sigrid Neilsen that had started in the cloakroom of the legendary gay nightclub on Princes Street, Fire Island, now ironically the premises of a major bookstore. 35 years later, playwright and Village Pub Theatre founder James Ley has written a work to celebrate that part of Edinburgh's alternative history as an LGBT+ History Month Scotland Cultural Commission.
As the two fictional bookshops assistants Lewis (Pierce Reid) and Glen (Matthew McVarish) are packing up the shop in Forth Street on its last day, their personal, political and book related memories inform this fast moving, seriously funny play.
In Borgesian non- linear style, augmented by some tape rewinding sounds, Ley has created a narrative that allows Reid and McVarish to explore a spectrum of characters including a drama queen, a curious married man on the hunt for a hoover spare part, a disabused policeman and a firm buttocked bank manager, a Fife techie teacher, the judiciary and of course Bob and Sigfrid in their imagined homage to them within the play. For this opening performance, Edinburgh based writer and historian stepped on to the stage as the guest time traveller, shocking Lewis and Glen that 21st century Scotland allows gay marriage.
Mamoru Iriguchi t brings Japanese awareness of ephemerality with his clever set of chalk drawn shelves with books that can disappear at the flick of a switch. There couldn't be a play on a gay them without music and Love Song to Lavender Menace doesn't fail with Jimmy Somerville's You Make Me Feel Mighty Real a hilarious karaoke to It's Raining Men by McVarish and a tantalisingly brief YMCA from Village People, albeit one character at a time.
Ley has written a thoroughly entertaining play that's chock full of local references but ones informed by wider and bigger issues. It has a slight 'hand knitted' feel but is none the worse for that and its 2- hour duration flies by, not just for its partisan audience. Radical and politically aware though it is, most of the play focussed on gay men with the other 50% of the gay population being somewhat underrepresented. Plus ҫa change …. Apart from a reference to the 'pappy machy orange' from which a Jeanette Winterson book was read and some other esoteric book titles, there was not much more on lesbian life.
Nevertheless, this love song's subject matter is important enough to override that gripe so well worth singing along to.
12 – 21 October 2017 (not 15 or 16) at 8pm: Saturday matinee 2:30pm Tour continues