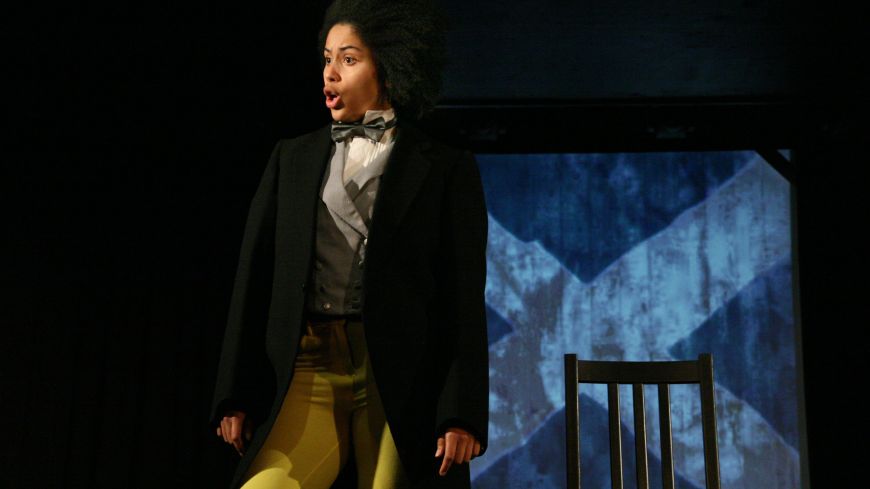 Company
A Play, A Pie and A Pint, Òran Mór and presented by the Traverse Theatre
Production
Alan Bissett (writer), Cheryl Martin (director), Andy Cowan (sound design), Ross Kirkland and Chris Reilly (lighting design), Jonathan Scott/Gemma Patchett (designers)
Performers
Andrew John Tait, Ali Watt, Danielle Jam
The skewed nature of the Scottish psyche has been thrown in to a cartoonish relief in this latest lunchtime offering from acclaimed Falkirk writer, Alan Bissett. As part of this year's Black History Month, It Wisnae Me is an attempt to highlight Scotland's role in British colonialism and slavery.
Physicality and mime are to the fore before the two knuckle dragging primitives evolve to the stereotypes that are the embodiments of England and Scotland, with Andrew John Tait as the sober, bowler hatted Telegraph reader and Ali Watt as the chippy victim and bevvy merchant, sadly sporting the hideous 'Jimmy' hat.
Complex issues like the Darien Scheme; Red Clydeside; James VI and I; the Highland Clearances and the old chestnut of Robert Burns potentially going to work in Jamaica are distilled to cliché like in an easily understood puppet show for children, and in doing so manages to trivialise serious topics.
It is only when Danielle Jam appears about 35 minutes in that more interesting dynamics emerge. Not only does she challenge her being no more than the generic 'Black Girl' in the script, but questions the play's white male perspective. The play's final scene sees Jam take on the role of James McCune Smith who studied at the University of Glasgow and was the first African American to receive a doctorate. Smith was a friend of fellow anti- slavery activist Frederick Douglass, whose story Strike for Freedom is currently on display at the National Library of Scotland. This part moves the piece away from its cliché ridden, oversimplified take on history with a voice that offers not only balance but a black perspective.
The play includes voiceovers from work by Professor Tom Devine and Paul Henderson Scott, ably read by what is assumed to be last week's PPP stars, Gordon Cree and John Jack, who have credits on the programme. Alistair Gray clearly provided his own inimitable voice. CRER (Coalition for Racial Equality and Rights) Scotland get a mention along with Zandra Yeaman who, it also assumed, voiced for the female slave during a speech by Danielle Jam.
Some Bob Marley music, like Buffalo Soldier and Don't Worry About a Thing, bookends this worthy and well intentioned if somewhat clumsy and over ambitious play.
https://www.crer.scot/black-history-month
Tue 9 – Sat 13 Oct, 1pm; Fri 12 Oct, 7pm Age recommend 14+