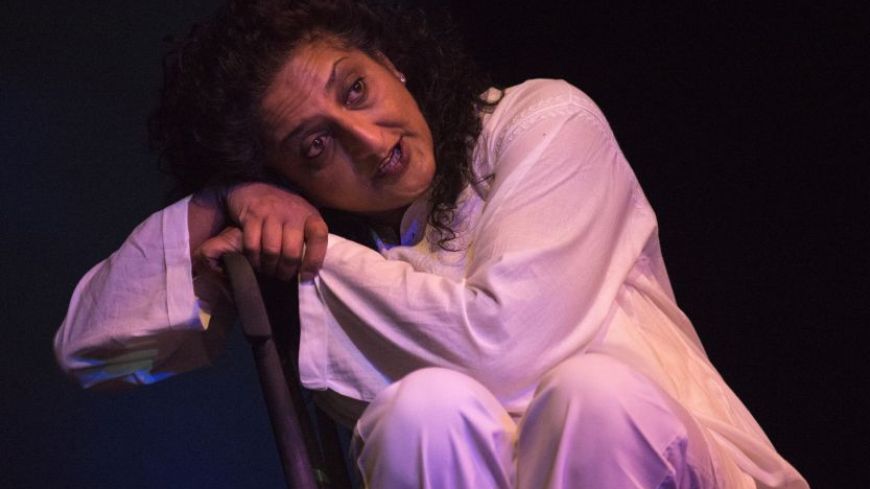 Production



Annie George (writer), Niroshini Thambar (music and sound design), Daya Rasaratnam (voice artist), Lorna Simpson (video/editing), Jacqueline Matisse (additional video/editing), Roddy Simpson (stage manager), Eve Allan (operator), Lunaria.co.uk (print design and production photos)

Performers
Annie George (performer)
"It's like eating sunshine...that's home," recounts Annie George in Home Is Not The Place, an autobiographical, poignant and beautiful account of lineage, identity and what makes home, home. 
A projection of a passport stamp reading LEFT INDIA 14/6/69 greets audiences as they take their seats while plinky, contemplative music interspersed with birdsong sets the tone and interjects throughout the one-woman monologue. Weaving in and out of embodying her mother, her grandfather and herself, Annie tells the story of her quest to discover the short life and lost work of her grandfather, a writer named PM John in Kerala during the years leading up to India's independence from British rule in 1947.
Musing in and out of stories and histories, both political and personal, George manages to capture feelings of home from the lens of emigration and third culture, all while captivating the room as purposeful and poetic storyteller. Speaking straight into the hearts and minds of the audience, George explores her grandfather's story and the many identities of home within ourselves through projections, personal testimony, key props, colour and symbolism, culminating in a rich and flavourful display.
Sound design and music by Niroshini Thambar play a particularly thoughtful element in the piece, with choice transitions creating moments of calm or anticipation; sounds of a beating heart and traditional music play over a projected time lapse of writing down a family tree. Video projections of streams and moments in history support the narrative, especially driving home more meaning to the anecdote that PM John's name translates to "turbulent stream".
"Awareness feeds art," George declares, a moment, combined with the subject matter, that offers a bit of timely hope, considering it discusses matters of independence, immigration and home at a time when Scotland's independence is an oft-discussed topic in the wake of Brexit ripples. 
With that statement, George drives home how the arts have a responsibility to preserve and share truth. "Tell. Your. Stories." George incites. "Leave. A. Trace."
Ran Fri 21 Feb - Sat 22 Feb 2020
https://anniegeorge.net/