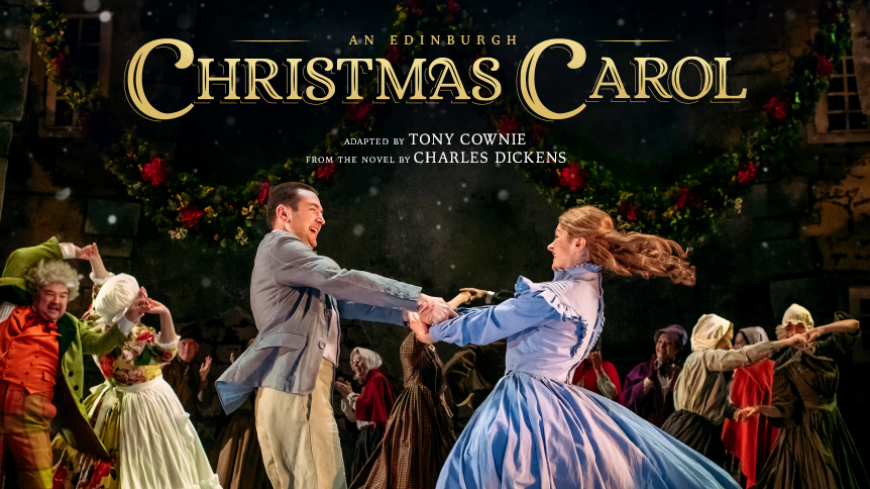 Production
Tony Cownie (Adaptation and Director), Charles Dickens (Based on the Novel by), Neil Murray (Designer), Edie Edmundson (Puppet Director), Simon Auton (Puppet Maker)
Performers
Christina Bain (Musician), Richard Conlon (Rab Cratchit), Belle Jones (Mrs Cratchit), Liam King (Young Ebenezer), Hannah Low (Mrs Thomson), Crawford Logan (Ebenezer Scrooge), Joanna McGuinness (Land Syne), Steven McNicoll (Nouadays), Stacey Mitchell (Tiny Tim), Taqi Nazeer (Fred), Nicola Roy, (Belle), Charlie West (Jacob Marley)
The ghost of an idea.
This is how Dickens described his significant contribution to the literary and cultural world, particularly as we enter the final days of the year. A story which takes the spectres of remorse, redemption, and guilt and channels them into a sense of community – drawing audiences together with warmth and comfort like few other tales.
And what finer way to replicate this sense of 'together' than with An Edinburgh Christmas Carol, a localised (though not dismissive of those outside Auld Reekie) adaptation from Tony Cownie. A returning production following its 2019 outing, the setts of Edinburgh lurch into the past, into a distant realm where Greyfriars Bobby stalks the kirkyard for scraps, the vaults were still inhabited, and the council were as useful as a glass hammer. How things change…
The Lothian twang offers an additional dimension of Scots humour, enabling a playful sense of history and folklore of the region to ripple through the story. Whether it is Scotland's all too recent history with Christmas as a national Holiday or the shifting of the Ghost of Christmas Past into the Ghost of Christmas Langsyne (Played by Joanne McGuinness).
Sharing the stage with the likes of Scrooge, Fred, Marley, and the Cratchits is one of Edinburgh's most famous residents: Bobby, the terrier who would never leave his master's side, even after their passing. One of Simon Auton's puppets for the show, Hannah Low brings energy and life to the pedigree pup, as much as Stacey Mitchell's heartfelt Tiny Tim, the other of Auton's puppets, both bringing tremendous verve and seamless inclusion with Edie Edmundson's puppetry direction.
And all Christmases have come at once in the guise of Steven McNicoll's bubbling presence as a host of Dicken's classical roles. From Mr. Fezziwig, to the aptly named Ghost of Christmas Nouadays, McNicoll brings such Festive cheer into the parts that even the most curmudgeon of misers cannot help but melt their hearts a little at the larger-than-life comedic performances. Conlon's dotting father Rab Cratchit offsets his significant role with something fiercer, Scrooge's intimidating schoolmaster, a violent glimpse at the story's upcoming sterner moments.
Returning to their spiritual duty is Taqi Nazeer, last mentioned here from the equally haunting Jinnistan, as the Ghost of Ayont, a spectre of the coming years where Murray's designs shape the usual Reaper visage into that of a Headless Drummerboy – one of the show's more successful frights. But there's something worse walking these closes, one man's footprints echo through the theatre: Crawford Logan's Ebenezer Scrooge.
Logan is a Scrooge as miserable as ever, but perhaps a touch too approachable in catering to the children and ensuring they follow his redemption. There's a lack of animosity in Logan's direction, though the performance is rich with conviction, Edinburgh's Scrooge isn't quite as far down the path of villainy as he ought.
Tonally, a persistent issue of balancing the darkness of Dicken's classic with the inviting appeal for youngsters strikes an awkward chord. There is no escaping that this is a Ghoulish tale, with effective imagery leaning into the lost souls tormenting Scrooge, or Nicola Roy's expressive and bittersweet role as Scrooge's lost-love Belle when paired with Cownie's more earnest comedy, they can cause moments of disorientation.
An Edinburgh Christmas Carol flitters between the Dickensian horrors of its ghostly origins and the traditions of Scottish theatrical festivities, alas its storytelling wobbles somewhat on the snowy setts, but still breathes a sense of community and life into the ghosts of the past, with an all too familiar ring of the contemporary greed we had hoped had ebbed.
24th November - 31st December, 6.00pm & 7.00pm. Various matinees at 1.00pm & 2.00pm. Ages 6+
Tickets from £20.00
An Edinburgh Christmas Carol | The Lyceum | Royal Lyceum Theatre Edinburgh
Photo Credit: Stuart Armitt