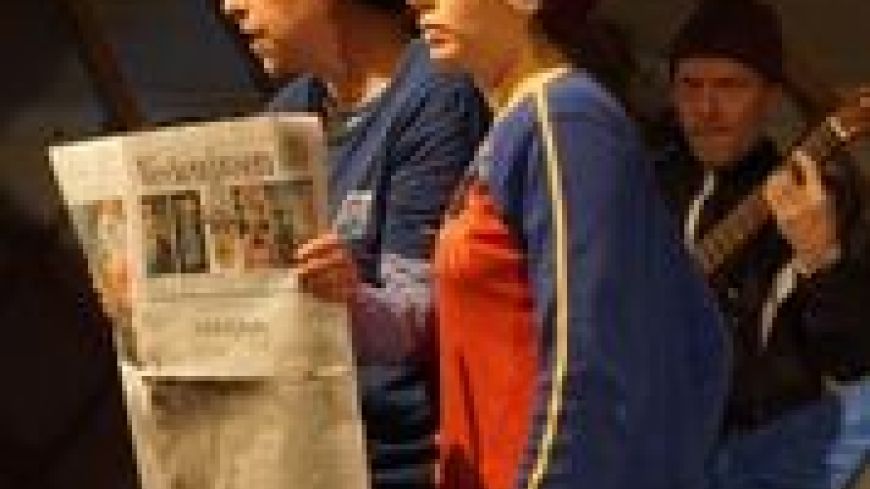 Production
Iva Moberg (Associate director/producer), Alex Byrne & Kjell Moberg (Artistic director), Jan Shanel (Technician), Uta Giildhuis (Producer/project manager).


Performers
Marina Popovic, Robert Orr, Iva Moberg, Vaclav Kalivoda, Jan Shanel (Performers).
Theatre Company NIE (New International Encounter) has, for sixteen years, co-created performances with venues and theatre companies across Europe. Their latest production, We Come From Far, Far Away, also traverses a mix of European countries, following the journey of two young boys who escape from Aleppo, Syria with the dream of reaching a safe haven in Norway.
Based on true stories shared by older children at the Hvalstad Transittmottak - a reception centre for young refugees on the outskirts of Oslo – the tale begins in Aleppo, with the bombs and the bloodshed that chase them away from home. Abdullah and his friend Omar, with money from their parents safely hidden in their shoes, manage to cross the border into Turkey, dodging bullets as they flee. From here they must take boats and trains, dodge the police and the scammers, they face verbal abuse and personal tragedy, as they run from death towards Norway.
This moving story is told inside a Mongolian yurt. Taking off our shoes and huddling together on cushions scattered around the floor, the tale takes on a particular and appropriate intimacy. The two female performers playing Abdullah and Omar begin inside a tent (they explain they bought this when they arrived in Greece). Within the story the tent is symbolically both a temporary sanctuary and a vulnerable target, in practice it also serves as the perfect medium for a bit of shadow puppetry.
Two male performers enact a number of incidental roles, at one point playing brutal comedy policeman, Punch and Judy style, with police puppets made of plastic bottles. Perhaps more importantly, these two add atmosphere and drama through playing a variety of live musical instruments.
Aimed at young people aged 10-15years, this touching and humorous piece of theatre brings these necessary stories from far, far, away, much closer to home.
Runs until 1st June