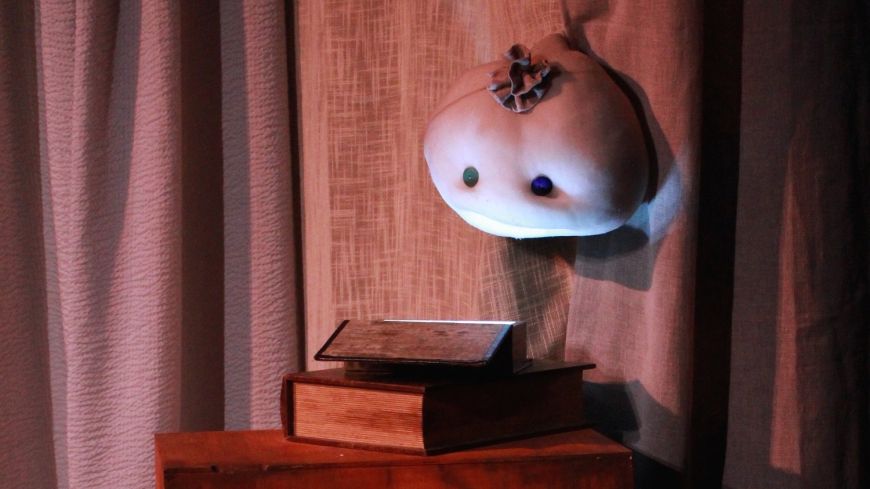 Company
Théâtre des Petits Âmes, Canada, in co-production with La Ville de Mont-Tremblant
Production
Isabelle Payant in collaboration with Stéphane Heine, Anne Brulotte-Légaré and Patrick Beauchemin (idea, design and music), Nancy Longchamp (lighting design), Stéphane Guy (technical director)
Performers
Patrick Beauchemin (Oscar), Stéphane Heine (Grégoire) and Isabelle Payant (Olive)
The new location of l'Institut franҫais d'Ecosse on George IV Bridge is the ideal spot for Ogo, the production created for wee souls (petits âmes) from the Canadian company of that very name, Théâtre des Petits Âmes.
Set within a makeshift space in an upstairs room, the stage is softly draped with tea coloured cloths and scattered with a variety of wooden chests. It is here we meet Olive (Isabelle Payant) who's had an invitation from someone called Ogo to 'go away'. Soon she's joined by Grégoire (Stéphane Heine) who also has such an invitation and joins her in the wait. As time goes on, the two strangers are joined by a third. This turns out to be Oscar (Patrick Beauchemin) who also holds an invitation from the mysterious Ogo, so the trio sets about waiting. And waiting.
So, who is Ogo? None of the invitees knows and he remains elusive while revealing himself enough for each of the three to know of his having a round face with one blue and one green eye. In this Waiting for Godot for wee ones, the lesson of how we all bring our own experiences to every situation to make it transformative is brought to life. Using skills that make things look deceptively simple, the trio uses some fine puppetry and shadow play as they pass their time, along with a scene of some magical light tricks involving dancing masks. Add extending ladders and disappearing fish and you have 40 minutes packed with intrigue to hold the attention of small people.
Music played on harmonica, melodia, kalimbola and xylophone by Isabelle Payant features throughout, with the addition of a bit of washboard percussion and some clever orchestration of throat clearing and humming.
It is a singular gift for adult theatre makers to create something that tunes right to the level of young children and that is exactly what Théâtre des Petits Âmes has done with this charming, gentle piece that hits the top spot of the giggle and gasp barometer.
28 May to 3 June 2018 times vary age recommend 2-6 years