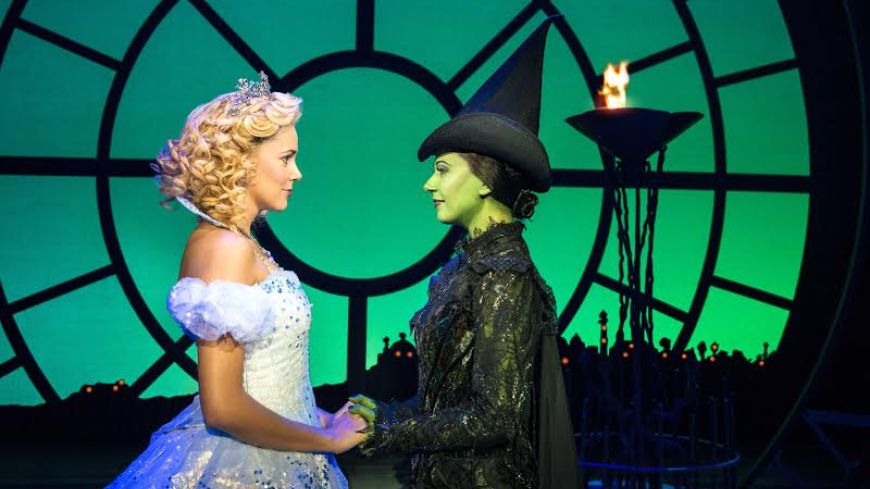 Company
MarcPlatt, Universal Pictures, the Araca Group, John B. Platt, David Stone
Production
Joe Mantello (Director), Stephen Oremus (Music Supervisor), Wayne Cilento (Staging)
Performers
Ashleigh Gray (Elphaba), Emily Tierney (Glinda), Samuel Edwards (Fiyero), Marylin Cutts (Madame Morrible), Stephen Pinder (Wizard & Doctor Dillamond), Carina Gillespie (Nessarose), Richard Vincent (Boq)
It's difficult to avoid clichés when looking for a headline to describe this sumptuous musical. Like a supermarket offer, you get two outstanding leading ladies for the price of one. Emily Tierney, who plays 'Glinda', gets some good songs and some of the best comedy lines while looking like she has stepped out of 'Legally Blonde', and Newtongrange's Ashleigh Gray, who has to get immersed in green make-up for her central character of 'Elphaba'.
Making her debut at the theatre that helped develop her love of musical theatre, Ashleigh is equally at home as the put upon daughter, the shunned student and the girl who falls for the male hero Fiyero (played by Samuel Edwards), and of course as a singer of some great songs that demonstrate the range and quality of her voice.
This story is set in 'Oz' and is a parallel story to the 'Wizard of Oz' told from the perspective of 'Elphaba' and 'Glinda' Wicked is based on the best-selling novel 'Wicked: The Life and Times of the Wicked Witch of the West' by acclaimed American author Gregory Maguire. His book was inspired by the characters and stories created by L. Frank Baum in 'The Wonderful Wizard of Oz'.
The story is pure fantasy, but develops logically, with scenes in the second act that are highly dramatic and you feel the silence from the audience.
'Wicked' has great sets, imaginative costumes, wonderful stage lighting and the director has managed to put the 'tricks of his trade' to good effect.
It is unusual that the main relationship is between the two females although both pursue the main male character to provide love interest but their duet 'For Good' is an exceptional blend of voices reminiscent of Elaine Paige and Barbara Dickson.
The show has some really good songs including 'Defying Gravity' and 'Dancing through Life'.
The principals are well supported by Marilyn Cutts as Madame Morrible and Stephen Pinder who has the double role of the 'Wizard' and Doctor Dillamond. Stephen was Max Farnham in 'Brookside' for many years and appeared in 'Scotch & Wry' with Rikki Fulton in his early years. He has a number 'Wonderful' where he produces a master class in how to put over a number that all budding performers could learn from.
Although it could be scary in parts for very young children, those near me were thoroughly enjoying the show which for once is free of innuendo. From stepping on to the carpet to the foyer you soon get immersed in the atmospheric colour of the moment.
The show is on from now through the festive season until 10th January so plenty of time to get over to The 'Green Side'.
Plays til 10 January 2015.