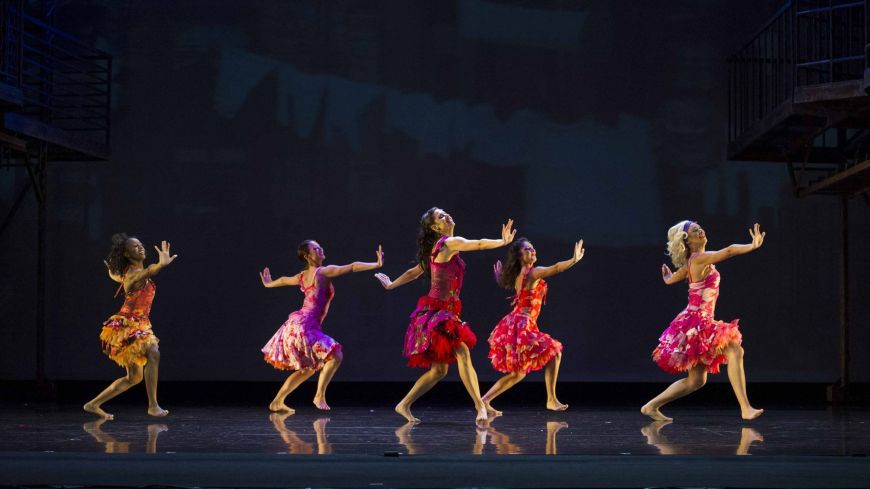 Company
BB Promotion GMBH and Sundance Productions inc. NY, and Ambassador Theatre Group
Production
Jerome Robbins (concept/choreography), Leonard Bernstein (music), Stephen Sondheim (lyrics), Joey McKneely (director), Paul Gallis (design), Michael Brenner (production)
Performers
Louis Maskell (Tony), Katie Hall (Maria), Djalenga Scott (Anita), Javier Cid (Bernardo), Jack Wilcox (Riff) plus ensemble of actors, singers and dancers. Orchestra - Ben Van Teinen (conductor)
Arriving at the Edinburgh Playhouse on Wednesday night, it was like walking onto a Film set: Greenside Place had become Broadway with a tall Brownstone building, Stars and Stripe flags, Hot Dog van and a yellow cab parked on the side walk.
The all-time favourite American Musical, West Side Story has come to town.
The show first opened on Broadway in 1957, followed by the 1961 film version which won ten Academy Awards.
It was an imaginative concept to update Shakespeare's tragic tale of Romeo and Juliet from fair Verona to Tony and Maria in Fifties New York. The feud between Capulets and Montagues became rival street gangs, the American "Jets" against Puerto Rican "Sharks" clashing over racial prejudice and cultural heritage.
This UK touring production recreates the original Jerome Robbins' choreography with Sondheim lyrics and orchestral score by Leonard Bernstein.
The towering stage setting captures period and place in an instant. Manhattan Apartment blocks with spider-web fire escapes, against a backdrop of vintage black and white city street photographs.
The opening scene introduces Riff and the Jets prowling around their urban territory, snapping fingers to the Bernstein bluesy beat. But there's little sign of tough streetwise swagger from these clean-cut, colour-co-ordinated, Gap chino kids; concentrating more on dance moves, their spoken and singing voices lack diction and harmony.
Only when Tony appears do we see true Showbiz sparkle: Louis Maskell has model looks, he can act, dance and sing, belting out "Something's Coming" with youthful verve and vitality.
Now we are drawn into the well known tale of boy meets (the wrong) girl. At a local dance Tony is attracted to Maria, a dark haired Puerto Rican. Dressed in a virginal white dress, she's played with girlish innocence by West End Musical diva, Katie Hall.
Their blossoming romance is sweetly expressed in all the familiar duets and solos - "Maria", "Tonight", "I Feel Pretty".
Diverse styles of choreography is the key to create the dramatic energy of the narrative - classical ballet, contemporary dance, cha cha and mambo - blend seamlessly through the melodic score of songs, operatic arias and cool jazz.
The Shark Girls - led by the glamorous Djalenga Scott as Anita - show off the best of the Latino dance steps, a colourful display of raunchy rhythm. Their rendition of "America" oozes patriotic emotion; as immigrants they recall their Caribbean home with bittersweet regret.
A highlight too is the duet between Anita and Maria singing "A Boy Like That/ I have a Love" in perfect unison.
The brutal realism of the premiere of "West Side Story" shocked and thrilled theatre critics:
"Jerome Robbins has put together and then blasted apart the most savage, restless, electrifying dance patterns …." (New Herald Tribune, 27/9/57).
Unfortunately, no feeling of a savage, electrifying mood here. When the Jets and Sharks meet at the Rumble, where's the raw "Reservoir Dogs" style of macho aggression? The switch blade fight scene is graceful rather than gritty, without a shocking, dramatic punch.
Overall, this welcome revival of a classic smash hit show offers an entertaining night out. Fantastic to hear the glorious Bernstein music performed live - the Orchestra play with fiery passion - with superlative performances from Maskell, Hall and Scott and sassy Salsa dance routines.
We walk back out on to "Broadway" humming the tunes …. I wonder if we can hail that yellow cab for a ride home ….
Show times
18 - 29 March 2014
Tickets
£15 - £49.50
Concessions for Groups and Schools
Read Gordon Clayton's review of West Side story at the Edinburgh Festival Theatre