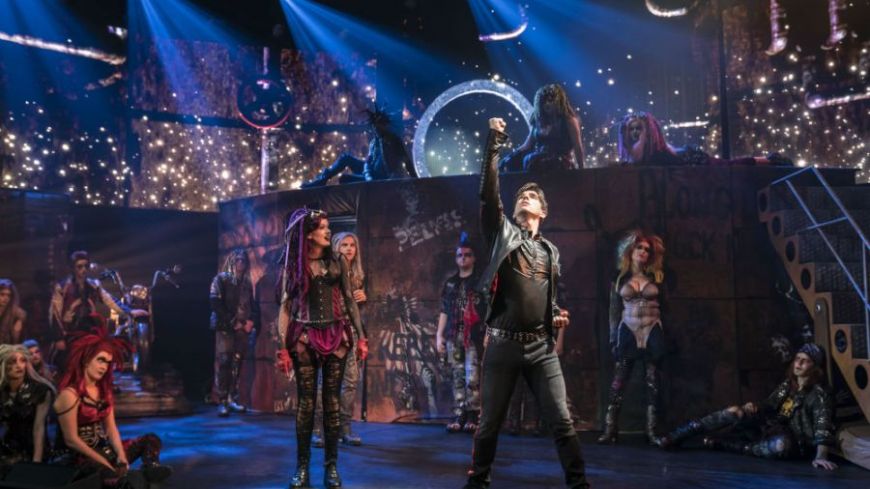 Company
Queen Theatrical Productions, Phil McIntyre Entertainments, Tribeca Theatrical Productions.
Production
Queen (music and lyrics), Ben Elton (book), Cornelius Baltus (director), Lajos Túri Péter (choreographer), STUFISH (set designers), Kentaur (costume / wig designers), Rob Sinclair & Douglas Green (lighting designers), Giles Maunsell & Sam Pattinson (video producers), Rory Madden (sound designer), Stuart Morley, Brian May and Roger Taylor (musical arrangers and supervisors).
Performers
Ian McIntosh (Galileo), Elena Skye (Scaramouche), Michael McKell (Buddy), Adam Strong (Khashoggi), Jenny O'Leary (Killer Queen), David Michael Johnson (Brit), Amy Di Bartolomeo (Oz). Ensemble – Laura Ava Scott, Emily Olive Boyd, Jack Chambers, Louis Clarke-Clare, Victoria Collins, Anna Davey, Joanne Harper, Christopher D Hunt, Crystal Leah, Edward Leigh, Kate Leiper, Andre's Quero-Marin, Sam Robinson, Sjoerd Van der Meer. Swings – Jacob Fearey, Ellie Mitchell. Band – Bob Broad (musical director / piano), Zachary Flis (music associate), James Barber (guitar), Simon Croft (guitar), Neil Murray (bass guitar), David Cottrell (drums).
The time is the future, the place is the planet once known as Earth. 
In this place and time life is lived alone, but long ago, before Globalsoft, there was real life, real love and for one brief shining moment - there was Rock.
But that is little more than legend, collected in misinterpreted fragments by a rebel faction, The Bohemians, who want to find their rhapsody.
The dystopian truth is that Globalsoft Corporation, under CEO Killer Queen, has appropriated the imagination of every kid on the rebranded iPlanet. The youth have uploaded their souls and Summertime recess at Ga-Ga University will be spent virtually, online.
Music has been swept away in a landslide of autotuned pop, finally killed off by X-Factor and, other than that programmed by the Corporation, is now illegal.  There are no musical instruments left – and yet there is a folklore, a distant dream …
Young Galileo has visions. Words that make no sense to him appear in his head – he channels The Rolling Stones, Elvis, The Spice Girls even Ernie (The Fastest Milkman in The West).  These lyrical tics bring him to the attention of the secret police as he is carted off declaiming that "my milkshake brings all the boys to the yard".
Also arrested for the way she dresses is a smart, sassy and sarcastic loner classmate, whom he dubs Scaramouche.  While she dreams of real friends he shares visions of his Arthurian-like heroic destiny – or being "an arrogant, self-important asshole", as she observes.
When they meet the rebels, Galileo's "useless phrases" are hailed as holy words.  Could he be The Dreamer, the one that they have waited for?
Freddie Mercury commented that "my melodies are superior to my lyrics", and here the songs far outshine the writing.  Elton's thin plot shoehorns more than two dozen songs into this jukebox musical. The writing is adolescent, sometimes to the point of being cringeworthy, but to give it the benefit of the doubt it could be viewed as firmly tongue-in-cheek. With its cast of goodies, villains and evil henchmen it succeeds if thought of as a rock panto. 
Luckily Queen's songs are theatrical by nature and there are great performances. Michael McKell's playing of Buddy in Keith Richards / Captain Jack Sparrow style almost steals the show.
While it doesn't quite pull it off on stage in terms of scale and spectacle, the excellent use of projection with its forced perspective looks very much like the future.
Seen by over 15 million theatregoers worldwide and with a 12-year run in London's West End it clearly continues to strike a chord.
It's not legendary, but re-imagined to keep it relevant, this production is probably as good as it gets.
Show Times: 7 to 12 October 2019 at 7.30pm.  Matinees 9 and 12 at 2.30pm.
Tickets: £13 to £79 (see details)  
Accessibility: 10 October audio described and signed.