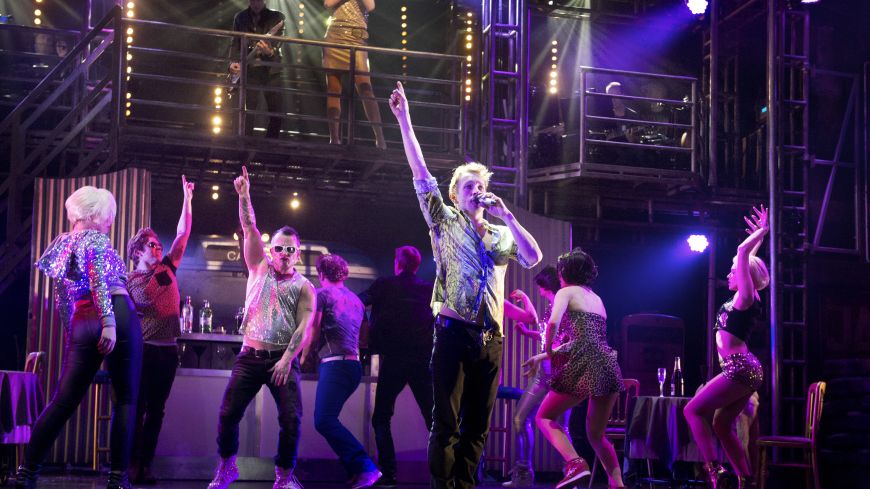 Company
Phil McIntyre Entertainments, Arnold Stiefel and ATG
Production
Caroline Jay Ranger (Director), Denise Ranger (Choreographer), Griff Johnson (Musical Director)
Performers
Ben Heathcote (Stuart), Jenna Lee-James (Mary), Tiffany Graves (Devil and Baby Jane), Andy Rees (Rocky), Jade Ewen (Dee Dee), Michael McKell (Stoner)
"There's only one Rod Stewart" was the football song that sprang to mind after watching this touring production of Tonight's the Night featuring some of the singer's back-catalogue.
If you are old enough to remember the Budget records sung by someone other than the original artist then you will know that while you wanted a copy of the record the end result was unsatisfying as it was not the 'real' thing and this show came into this category.
With Ben Elton's plot as thin as the paper sailor hats supplied by the theatre this was an assembly line of greatest hit after greatest hit delivered by a young and energetic cast.
As a vehicle it is appropriately set in Gasoline Alley in Detroit where the action starts in a garage among the young men who work and the girls who hang around.
Our "hero" Stuart (Ben Heathcote) is a target as the painfully shy young man without the personality or courage to approach Mary (Jenna Lee-James) who has a mutual but undeclared attraction for Stuart.
Thinking out loud, Stuart wishes he had the way with women that Rod Stewart is reported to have and the Devil appears (played excellently by Tiffany Graves) offering Stuart the star's soul in exchange for his own.
The Faustian pact made, he turns into a would-be rock star and guess whose songs and moves he adopts!
He moves to L.A. and goes on the road enjoying the hedonistic lifestyle. He is accompanied by Stoner who gets most of the giggles that the script offers and Michael McKell (Doc West from 'Doctors') makes the most of the part which will remind you of someone well-known from the rock scene.
There are other relationships to sort out during the story without you getting to know much of their character.
A change of gender in the performer delivering a song sometimes brings a new dimension and feeling to a song and while that did occur the tendency was to give everything too many big licks and a case of less-is-more would have made the overall sound less harsh.
Jade Ewen as Dee Dee had a couple of songs that she delivered in a thoughtful way. Ben Heathcote had the unenviable job of playing a living legend and was ably matched with Jenna Lee-James supported by Andy Rees as 'Rocky'.
I could sense that the audience were trying to have a good time with some joining in the singing but the atmosphere at the interval was muted. The second half had a lot of pace and the sets in L.A. provided an opportunity to light up the stage and for the cast to show off their moves while delivering some of the anthems that music fans love.
The mega-mix at the end gave the audience an opportunity to get out of their seats and join in wearing their sailor hats.
Runs to Saturday 22 February, 7.30pm (Wed & Sat, 2.30pm)