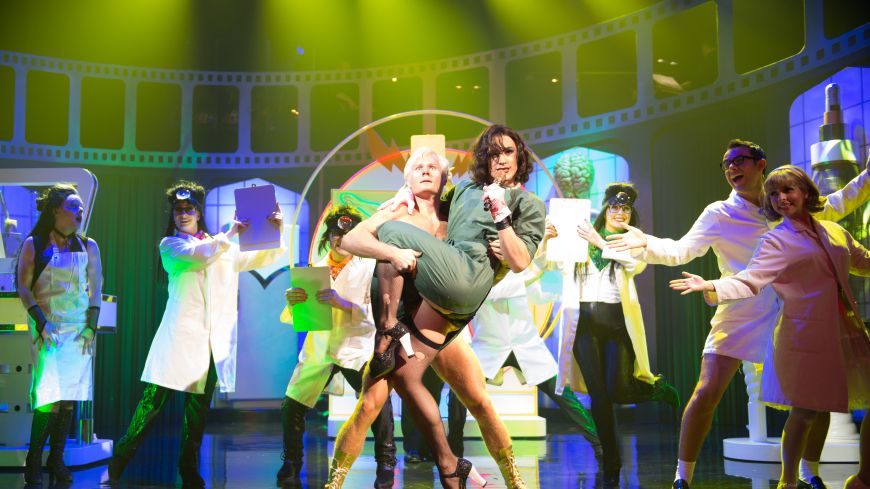 Company
Howard Panter for ATG
Production
Christopher Luscombe(Director), Richard Hartley Musical Arrangements), Nathan M. Wright (Choreographer)
Performers
Oliver Thornton (Frank), Sam Attwater (Brad), Roxanne Pallett (Janet), Philip Franks (Narrator), Rhydian (Rocky)
On the 'Rocky' road for 40 years and still plenty of followers. This is a new production of 'The Rocky Horror show celebrating four decades of audience participation and dressing to impress. People watching is part of the 'Rocky' experience and even on one of the coldest March nights for many a year, the pavement of Leith Street had an assortment of characters from the show including someone in the title role wearing gold lame hot pants and nothing else.
Some of the audience seem to know the script as well as the cast and as usual there is some heckling of the narrator played by Philip Franks (Charlie from Buds of May). His laconic style left gaps that the audience gleefully exploited even if the comments were fairly unsophisticated and his ripostes suggested that he had heard most of them before.
The stage show was inspired by the B-movie and opens with an usherette singing 'Science Fiction/Double Feature Picture Show".
The plot sees a young straight laced couple Brad and Janet played by Sam Attwater (Eastenders and Dancing on Ice Winner) and Roxanne Pallett (Jo in Emmerdale) travelling home on a country road and their car breaking down which results (as in all good horror movies) in them seeking help at a remote castle inhabited by some strange people.
Both Sam & Roxanne excel in their parts even if they are eclipsed by Oliver Thornton as Frank-n- Furter who controls the rest of the show while demonstrating a considerable amount of flexibility,  especially while seducing both of halves of the naive young couple.
As you can deduce the content is adult, but perhaps in 40 years it no longer has the capacity to shock. It is appropriate that 'Rocky' is played by Rhydian who made such an impression in the X-Factor but this show does not provide a platform for his undoubted talent.
Cerise Hine as Columbia, Kristian Lavercombe as Riff Raff, Abigail Jaye as Magenta are perfect as the main supporting cast along with Joel Montague who doubles up as Dr Scott and Eddie.
The Show is curiously balanced in terms of music with the best three songs over in the first twenty minutes or so in a first half that lasts only 45 mins.
'Rocky Horror Show' is often referred to as having a cult following and that is very true but if you are not fully committed to it then you may be at a loss to understand why it engenders such loyalty. While the script and songs are delivered by a cast without a weakness, the show seems to lack the sparkle anticipated.
Lighting was good, but the scenery seemed a bit low budget for a theatre like the Playhouse.
The Rocky Horror Show runs until Saturday 16th March
Read Gordon's review of Rocky Horror at the Edinburgh Playhouse in 2010