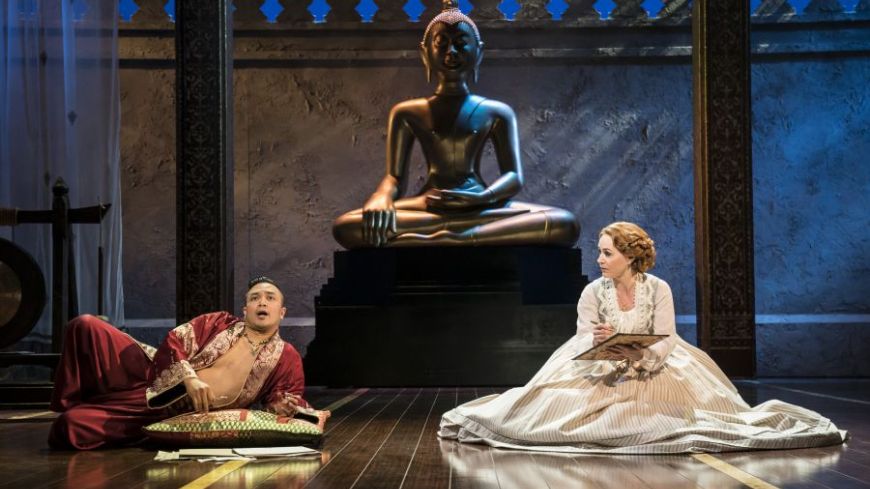 Company
Lincoln Center Theater
Production
Richard Rodgers (Music); Oscar Hammerstein II (Book & Lyrics); Bartlett Sher (Director); Jerome Robbins (Original Choreography); Christopher Gattelli (Choreographer); Ted Sperling (US Musical Supervisor); Michael Yeargan (Set Designer); Catherine Zuber (Costume Designer); Donald Holder (Lighting Designer); Scott Lehrer (Sound Designer); Robert Russell Bennett (Orchestrations); Trude Rittmann (Dance & Incidental Music); Stephen Ridley (UK Musical Supervisor); David Siebert (Associate Director); Sari Ketter (US Associate Director); Mikiko Suzuki MacAdams (Associate Set Designer); Patrick Bevilacqua (US Assistant Costume Designer); Yvonne Milnes (UK Assistant Costume Designer); Greg Zane (US Associate Choreographer); Emma Woods (UK Associate Choreographer); Yuki Ozeki (Production Assistant Choreographer); James Orange CDG (Casting Director); Debbie O'Brien (Children's Casting Director); Tom Watson (US Hair & Make-up Designer); Karen Spahn (US Associate Lighting Designer); Alistair Grant (UK Associate Lighting Designer); Ken Hampton (UK Associate Sound Director); Malcolm Forbes-Peckham (Musical Director); Campbell Young Associates (Hair, Wig & Make-up); Mary Halliday &Lisa Buckley (Props Supervisors); Helen Keane for Campbell Young Associates (Wigs Supervisor); Elle Hughes (Assistant to the UK Associate Costume Designer); Jonathan Holby (Fight Director); Kristin Flanders (Dialect Coach); Will Holyhead (Assistant to the Associate Director); Rachel Jayne Picar (Dance Captain); Nick Len (Assistant Dance Captain & Fight Captain); Harry Blumeneau (Children's Administrator); Joanne Benjamin (Executive General Manager); Richard Bullimore (Production Manager); Tom McEvilly, Matt Malone (Associate Production Managers); Donna Munday (Production Consultant – Trafalgar Entertainment); David Nelson (Company Manager); Francesca Finney (Stage Manager); Jack Conway (Deputy Stage Manager); Alix Nicholson (Assistant Stage Manager); Kinga Czynciel (Assistant Stage Manager); Flynn White (Assistant Stage Manager); Ellie Carroll (Head of Wardrobe); Amy Cassell (Deputy Wardrobe); Hannah Boggiano (Wardrobe Assistant); Alice Jervis (Wardrobe Assistant); Kirsty Lamb (Head of Wigs); Anna Heath (Deputy Wigs); Emily Tidball (Wigs Assistant); Adrian Cobey (Sound No. 1); Samantha Mullis (Sound No. 2); Chris Marr (Sound No. 3); Jev Laverick (Chief Electrician); Christina Madden (Deputy Electrician); Tristan Franken (Automation 1); Sammy McIntyre (Carpenter); Marie Castleman (Swing Technician/Automation); Debbie Lewis (Head Chaperone); Sammie Marsden (Deputy Chaperone); Will Lewis (Chaperone/Tutor); Ellie Miller (Chaperone); Patrick Stanier (Production Stage Manager); Emma Stanier (Production Assistant Stage Manager); Marine Wan (Production Head of Wardrobe); Harriet Fowler (Production Wardrobe Assistant)
Performers
Annalene Beechey (Anna Leonowens); Jose Llana (King of Siam); Cezarah Bonner (Lady Thiang); Philip Bulcock (Captain Orton/Sir Edward Ramsay); Kok-Hwa Lie (Kralahome); Ethan Le Phong (Lun Tha); Aaron Teoh (Prince Chulalongkorn); Paulina Yeung (Tuptim); William Mychael Lee (Phra Alack); Maria Coyne (Standby Anna Leonowens); Joseph Black, Oscar Riley, Cooper Snow, Alfie Turnbull (Louis Leonowens); Victoria Alsina, Aran Forest, Riley Fusilero, Emily Hill, Andie Jordan, Kaitlyn Kou, Nuan Yu Lui, Shuo Zhen Long, Annabella Man, Kanon Narumi, Christopher Nguyen, Elizabeth Nurdin, George Ray Pang, Hisui Jade Shimada, Poppy-Mei Soon, Rachel Tran, Myles Tullett, Layla Waggott, Nikita Wong, Perrie Wong (Royal Children); Yuki Abe (Ensemble); Iroy Abesamis (Ensemble); Miiya Alexandra (Ensemble); Cletus Chan (Ensemble); Jessica Gomes-NG (Ensemble); Steven Hardcastle (Ensemble); Samuel How (Ensemble); Eu Jin Hwang (Ensemble); Aiko Kato (Ensemble); Misa Koide (Ensemble); William Mychael Lee (Ensemble); Nick Len (Ensemble); Jasmine Leung (Ensemble); Ela Lisondra (Ensemble); Jesse Milligan (Ensemble); Yuki Ozeki (Ensemble); Rachel Jayne Picar (Ensemble); Prem Rai (Ensemble); Joaquin Pedro Valdes (Ensemble); Ena Yamaguchi (Ensemble); Sian Yeo (Ensemble); Sunny Yeo (Ensemble); Orchestra: Malcolm Forbes-Peckham (Conductor/Musical Director); Chris Mundy (Associate Musical Director & Keyboard); Michael Keelan (Violin); Marie Anne Bruccheri (Violin & Viola); Moira Hartley (Cello & Cover Conductor); Steve Cooper (Double Bass); Louisa Duggan (Harp); Murdoch MacDonald (Percussion); Clare Jefferis (Flute & Piccolo); Alasdair Hill (Oboe & Cor Anglais); Stuart Eminson (Clarinet, Bass Clarinet & Flute); Alun Rees (French Horn); Jonathan Thomson (Trumpet); Simon Walker (Trombone); Andy Barnwell for Musical Co-ordination Services Ltd (Orchestral Management); Stuart Andrews (Keyboard Programmer); Tom Kelly (Orchestral Reductions)
A sumptuous, visually stunning and atmospheric feast, this production of The King and I, the UK tour of the Lincoln Center Theatre version, is a wonderfully entertaining show. Composed by Rodgers and Hammerstein II in 1951, the production resonates with a fresh and modern approach towards its themes, keeping it relevant for 2019 audiences. With a strong and skilful ensemble, it is a joy to behold.
At the heart of the show is the war between progress and tradition, the differences between East and West and the impact of feminism, equality and diversity. The King of Siam has realised that his country needs to exist within a modern world, so invites an English woman to be a governess to his children and bring new knowledge to his country. What he may not have expected is how it will change him to become aware of how others see a culture in comparison to those living in it: it is not an easy thing to see ourselves as others see us.
Anna is a woman who knows her own mind and strives to educate others and to develop a respect for truth, despite a culture where men lead and women are seen as less than. She pushes for equality and understanding, but at the same time finds a growing sense of respect for the Siam culture and the challenges of the King. Despite many arguments, there is a strong regard between Anna and the King.
The musical numbers are instantly recognisable and performed beautifully by the ensemble. Annalene Beechey is a find as Anna, with a rich, lively voice that lends itself well to these well-known tunes including I Whistle a Happy Tune, Getting to Know You and Shall We Dance. She has a warmth and strength of personality that brings alive the essence of Anna: she makes the role her own.
As the eponymous King, Jose Llana is charming and entertaining. While he uses an effusive manner to make his kingly points, he is able to convey a great deal of meaning in a simple sound. There are times when he allows this to become more naturalistic and brings wonderful nuance to key moments. The lead up to Shall We Dance is particularly striking as Llana and Beechey effortlessly embody the moment where the King and Anna see each other as individuals, not simply their roles in life.
It is no mean feat to make a musical as relevant today as it was more than 60 years ago, but director Bartlett Sher has created a moving production that should appeal to both admirers of the film and to new audiences alike.
Times: Saturday 19 October – Saturday 26 October @ 7.30pm; Matinees: Wednesday 23, Thursday 24, Saturday 26 October @ 2.30pm
Tickets: £19.00 - £109.50
Photo by Johan Perrson