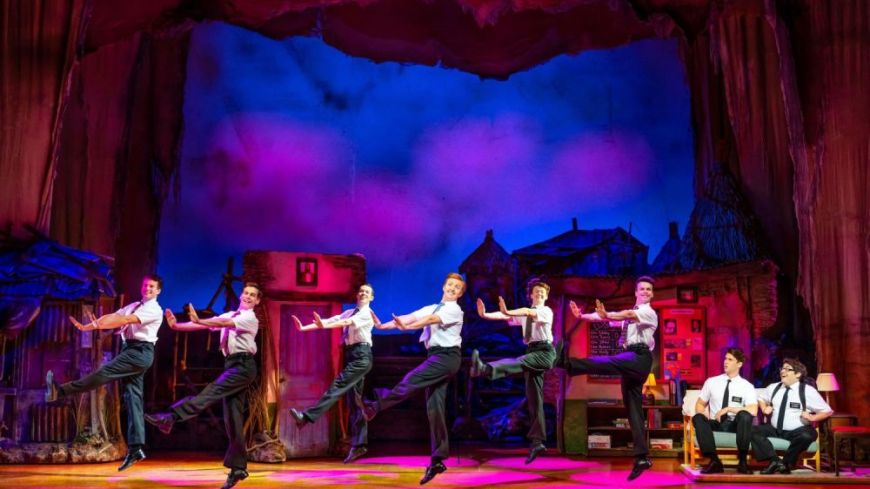 Production
Trey Parker, Robert Lopez and Matt Stone (Book, Music and Lyrics), Casey Nicholaw and Trey Parker (Director), Casey Nicolaw (Choreographer), Colm O'Regan (Musical Director), Scott Pask (Scenic Design), Ann Roth (Costume Design), Brian MacDevitt (Lighting Design), Brian Ronan (Sound Design)
Performers
Robert Colvin (Elder Price), Conner Peirson (Elder Cunningham), Aviva Tulley (Nabulungi), Jordan Lee Davies (Elder Mckinley/Moroni), Ewen Cummins (Mafala Hatimbi), David Brewis-Scott (Joseph Smith/Jesus/Price's Dad/Mission President), Thomas Vernal (General/Satan), Loren Anderson (Ensemble), Charlie Barnard (Ensemble), Tre Copeland-Williams (Ensemble), Tom Dickerson (Ensemble), Chanel Edwards-Frederick (Ensemble), Tad Hapaguti (Ensemble), Daniel Haswell, (Ensemble), Darren John (Ensemble), George Littell (Ensemble), Ben Middleton (Ensemble), David Perkins (Ensemble), Chomba S Taulo (Ensemble), Rory Shafford (Ensemble), Sharon Wattis (Ensemble)
*Ding dong*. Hello. My name is Lindsay Corr. And I'd love to share my thoughts on The Book of Mormon with you. It's really great. 
After a moment of silence as a sign of respect for Her Majesty The Queen, 21 April 1926 to 8 September 2022, so begins this nine-time Tony Award and four-time Olivier Award winning musical, as we meet the newest elders from the Salt Lake City chapter of the Church of Jesus Christ of Latter-day Saints, freshly trained for their upcoming two year missionary assignment.
Golden boy Elder Price (Robert Colvin) is dreaming of Orlando after happy childhood memories; however, he's doubly doubtful of his lot when he's not only assigned Uganda but also the socially awkward Elder Cunningham (Connor Pierson) as his companion. Confronted with a world that's "nothing like The Lion King" and no conversions from the Elders already in place, Price has a crisis of faith whilst Cunningham scrambles to live up to expectations, yet there is a glimmer of hope in young, local girl Nabulungi (Aviva Tulley) who has yet to embody the jaded cynicism of her village.
A litmus test for enjoyment of this show is if you're familiar with Matt Stone and Trey Parker, famed for South Park (ably assisted by Robert Lopez of Avenue Q fame, who also penned Frozen's 'Let it Go', but don't hold that against him…) and their brand of immature tomfoolery and risque humour to cleverly highlight serious issues. 
With references to religion, racism, poverty, AIDS, female genital mutilation, homophobia, paedophilia, rape, elitism, colonialism and cultural appropriation, the show at its core satirises privileged white western masculinity showcased in Scott Pask's stunning scenic design resembling a pop-up children's book to further juxtapose the dialogue and lyrical content.
The joy of this show is witnessing it, so this reviewer isn't wanting to give much away, except a recommendation that it's definitely worth a punt!
Robert Colvin and Connor Pierson are perfectly cast as the polar opposite Elders on their journey of discovery, with a fantastic ensemble also relishing their roles and the energy bouncing back to them from the packed out audience. Aviva Tulley does all she can with her role (as mentioned, the focus here is on white boys, so her character is pretty much limited to moving the plot along) and is in fine voice for her solo 'Sal Tlay Ka Siti'. 
The musical numbers are great, combining catchy simple melodies - some of which sound similar to other songs from the musical canon - with shocking lyrics for a deliciously delightful delivery, from the earworm 'Hasa Diga Eebowai' or the hilariously rock-induced 'Man Up' to some sweeter melodies like 'I Am Here for You' and 'Baptize Me'.
There'll be different stand outs for everyone - and rightly so - but a mention has to be made for mid Act I's 'Turn It Off', led excellently by Jordan Lee Davies' Elder McKinley - he's not gay - which harkens back to the golden era of Broadway with a camp, sequinned tap extravaganza about repressing any untoward feelings or thoughts. 
Check your political correctness at the door, remember being offended can be a very comfortable and privileged position to occupy, and sit back as this caricature, jam packed with pop culture references, transports you off on a bonkers romp that somehow retains a surprisingly thoughtful undertone of humanity. 
The Book of Mormon is at the Edinburgh Playhouse until Saturday 8 October (except Monday 19 September as this performance has been cancelled due to the State Funeral of Her Majesty, Queen Elizabeth II).
The Book of Mormon Tickets | Edinburgh Playhouse in Edinburgh | ATG Tickets 
© Lindsay Corr, September 2022