Image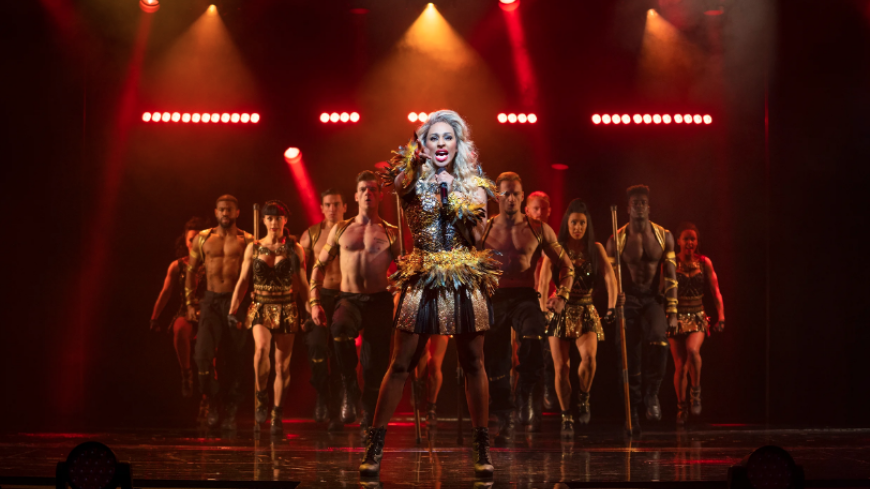 Company
Michael Harrison and David Ian with BB Group/Freddy Burger, David Mirvish Tulchin/Bartner Michael Watt John Frost
Production
Lawrence Kasdan (Film Screenplay), Alexander Dinelaris (Book), Mike Dixon (Production Musical Supervisor and Vocal Arrangements), Richard Beadle (Musical Supervisor), Frank Thompson (Associate Director), Beth Eden (Casting Director), Mark Henderson (Lighting Designer), Duncan McLean (Video Designer), Richard Brooker (Sound Designer), Karen Bruce (Choreographer), Time Hatley (Set & Costume Designer), Thea Sharrock (Director), Michael Riley (Musical Director), Phil Waddington (Assistant MD), Phil Sykes (Company Manager), Jason Capewell (Resident Director), Josh Ginnelly (Technical Stage Manager), Paul Bamford (Deputy Stage Manager), Alexandra Kettell (ASM/Book Cover), Alexandra Berridge-Schuter (ASM/Book Cover), Alun Vaughan (Head of Automation), Ellie Parfitt (Automation Deputy), Dan Jackson (Swing Tech), Luke Wignell-Walsh (Swing Tech), Gareth Dewar-Willox (Sound No 1), Josh Whittaker (Sound No 2), Justin Cook (Chief Electrician), Jon Wing (Deputy Electrician), Molly Hayden (Assistant Electrician), Hannah Stillman (Head of Wardrobe), Claire Wallwork (Wardrobe Deputy), Ellie Linaker (Wardrobe Assistant), Faith Jones (Head of Wigs), Eloise Robinson (Wigs Deputy), Laura Johnson (Wigs Assistant), Abigail Bourne (Chaperone), Kay Elliot (Chaperone)
Performers
Alexandra Burke (Rachel Marron), Benoît Maréchal (Frank Farmer), Peter Landi (Bill Devaney), Craig Berry (Tony Scibelli), Phil Atkinson (The Stalker), Lemar Bucknor Jr. (Fletcher), Ethan Marsh (Fletcher), Bong-ra Ndizi (Fletcher), Jesse Oniha (Fletcher), Archie Smith (Fletcher), Caleb Williams (Fletcher), Gary Turner (Sy Spector), Micha Richardson (Nicki Marron), Simon Cotton (Ray Court), Rosie Cava-Beale (Ensemble), Myles Cork (Ensemble), Kerry Crozie (Ensemble), Sia Dauda (Ensemble), Gustav Die (Ensemble), Chris Edgerley (Ensemble), James-Lee Harris (Ensemble), Holly Liburd (Ensemble), jack Loy (Ensemble), Danil Schmidt (Ensemble), Jessica Simmons (Ensemble), Yiota Theo (Ensemble), Callum Clack (Swing), Hannah Millichamp (Swing), Helen Parsons (Swing), Michael Wade Peters (Swing), Michael Riley (Keyboard), Phil Waddington (Keyboard), Chris Gardiner (Guitar), Steven Willingham (Guitar), Marcus Pritchard (Bass Guitar), Alan Dale (Drums), Rob Greenwood (Trumpet/Flugel), Matt Davies (Tenor Sax/Flute/Clarinet/EWI), Stephen Hill for Musicians UK Ltd (Orchestral Management), Jennlee Shallow (Rachel Marron at certain performances)
Thriller movie-to-musical The Bodyguard is a different kind of jukebox stage hit, starting off with a literal bang as a gunshot echoes throughout the Edinburgh Playhouse. Mega pop star Rachel Marron, played by X-Factor winner Alexandra Burke, has a stalker, and he's armed and dangerous. A new bodyguard is hired to protect the singer, and the relationship between the two quickly turns from professional and distant to lusty and romantic while they navigate fame, fear, loss and love.
Using projections and clever stage movement to set the scene more often than with a fully-dressed set, the staging is succint...until the Rachel Marron performance moments! Fully Beyonce-fied concert scenes, complete with fog and pyrotechnics, make this show an exciting spectacle.
Micha Richardson as Nicki Marron is a stand out supporting character, really popping onstage. Her voice, while significantly different than Burke's, is no less impressive and serves as a shrewd complement, meeting Burke's breathy and soulful with her own resounding and bright. Unfortunately, Benoît Maréchal as Frank Farmer (the Bodyguard) is a bit forgettable, with the exception of one hilarious karaoke moment.
With just coming off a triumphant West End run and sell-out UK Tour, Burke receives a packed house eager for her performance. As a vocalist and dancer, Burke hits every mark but lacks the acting chops to really make this character more than two-dimensional. When she sings, you do forget this, as she completely knocks it out of the park. Her belt soars, her lower range has this warm, rumbling glow and her runs are never overdone. It is no secret that singing I Will Always Love You is a challenge for anyone; after all, you're competing with a recording held near and dear to millions. Burke makes it her own and it's a joy to see this song, as well as the other Whitney Houston classics, performed so impressively.
With the fad of movies moving to the theatre, audiences today have a veritable buffet of familiar stories to see come to life. As both a jukebox musical and a film brought to the stage, what makes this one special is that it takes both the original 1992 film The Bodyguard and the music of Whitney Houston live right before our ears, eyes and hearts. Is it a gig? Is it a musical? It's both and it's difficult not to sing along to this timeless, beautiful music. Luckily, there's a rousing sing-a-long coming at the curtain call, and seeing the entire theatre sing I Wanna Dance With Somebody truly makes your week.

July 9-20, 2019
Mon - Sat at 19:30
Thurs and Sat at 14:30

Age guidance 10+
*Alexandra Burke will perform the role of 'Rachel Marron' at evening performances only. She will not perform at any matinees. At other performances, the role will be played by Jennlee Shallow. The producers of The Bodyguard cannot guarantee the appearance of any particular artist, which is always subject to illness and holidays.