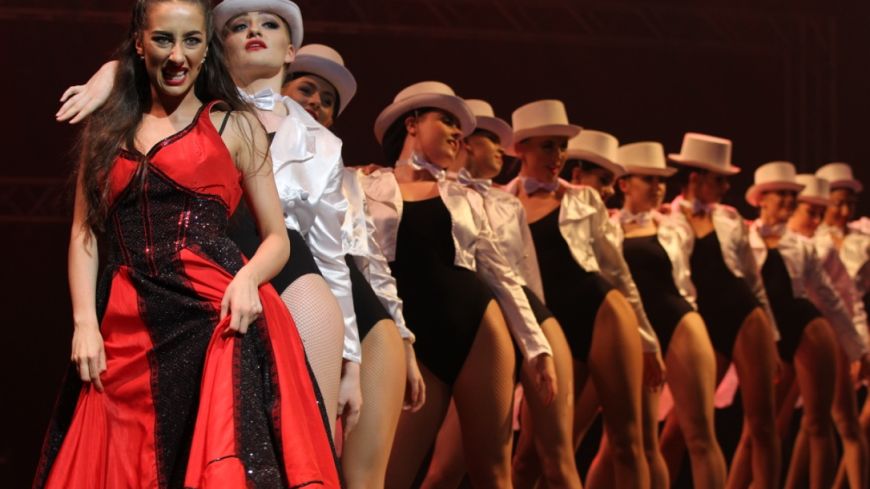 Company
The MGA Academy of Performing Arts
Production
Murray Grant (Creative Director), Marcella Macdonald (Musical director/choreographer), Gerard Bentall (Musical Director), Neil Metcalfe (Musical director), Senay Taormina (Choreographer), Andrew Gowland (Creative Consultant), Regan Shepherd (Choreographer, Marry the Night). MM Sound and Lighting.
Performers
Ray Quinn, Natasha Barrie (guest stars). The MGA Academy of around 200 singers, dancers, actors from the Junior School, Stage Academies, Diploma Students and Graduates.
The MGA Academy of Performing Arts in Edinburgh was founded by Murray Grant and Andrew Gowland in 2005, developing from small-scale workshops into a renowned College and "Centre of Excellence", to study for a professional career in musical theatre, dance and drama.
TEN, illustrated by the Roman numeral X (like the X Factor logo), is a dazzling, dynamic show and celebrates the range of theatre productions which have been performed by the MGA Academy across city theatres over the past decade.
The star guest is Ray Quinn, runner up to Leona Lewis in X Factor who went on to perform in Grease and Dirty Dancing in the West End and is now recording his first album. As the MC, he gave a brief overview promising tap dancing, the splits and jazz hands, before introducing the junior school (aged 8 – 14) with their chorus of "Hushabye Mountain" from "Chitty Chitty Bang Bang".
Then the Diploma students kick off with a rousing rendition of Bernstein's "New York, New York" from "On the Town". With the blast of a steam ship's horn, the stage is filled with dozens of sailors and streetwise guys and gals in varied costumes from 40s' fashion to modern "I heart NY" T- shirts: American accents are spot on, the dancing is slick and characterisation is crisp and cool with sassy performances in particular from Hannah Collins and Keziah Grace.
This sense of confidence and high standard of theatricality flows on, from Jazz Age flair, a Glee Club medley and Hip Hop rhythm to a tap dancing routine. Impressive ensembles, with perhaps a hundred students, are seamlessly co-ordinated with meticulous dance steps creatively choreographed with pace and precision.
The highlights from a packed programme include "Off with their Heads" featuring Caitlin Tipping in her glamorous red frock leading a Tiller Girls line up in white top hat and tails. From the musical Carousel, Georgia Fordyce and Ross Evans glide effortlessly in their beautiful, romantic pas de deux with delicate grace.
2015 graduate, Natasha Barrie sings Des'ree's ballad, "I'm Kissing You" from Romeo and Juliet, to which Nadia Kramer and Sonny Grieveson encapsulate the tragic fate of the lovers through mime and movement. And there's an hilarious episode from "The Producers" featuring the dancers in khaki shirts with swastika arm bands in "Hitler in Springtime"
What is amazing is the supersonic speed of costume changes as this vast cast of performers dash off into the wings, re-appearing a few minutes later, beautifully dressed for the next number. The artistic direction is inventve, taking over the theatre, such as singers crammed into the Boxes at times to complement action on stage.
Ray Quinn, well known for his masterly Michael Buble crooner style, has his own star turn with a charming version of "Mr Bojangles".
In such an ambitious show, not surprising to see a few first night problems with the follow spot and the presenters need to tighten up the script and comic timing. But this is a minor quibble in an otherwise highly polished, professional and inspiring showcase. Congratulations are due to the fabulous cast as well as to the entire production team of choreogaphers, creative, lighting & musical directors.
Forget Noel Coward's advice in his song, "Don't put your daughter on the stage, Mrs Worthington." The passion, enthusiasm, energy and the pure joy of performance by these young students proudly illustrates the all-round musical theatre talent which is encouraged and nurtured at the MGA Academy of Performing Arts. 10/10 for TEN!.
Showtimes
Thursday 23 - Saturday 25 June, 2016
Evenings, 7.30pm. Saturday matinee, 2.30pm