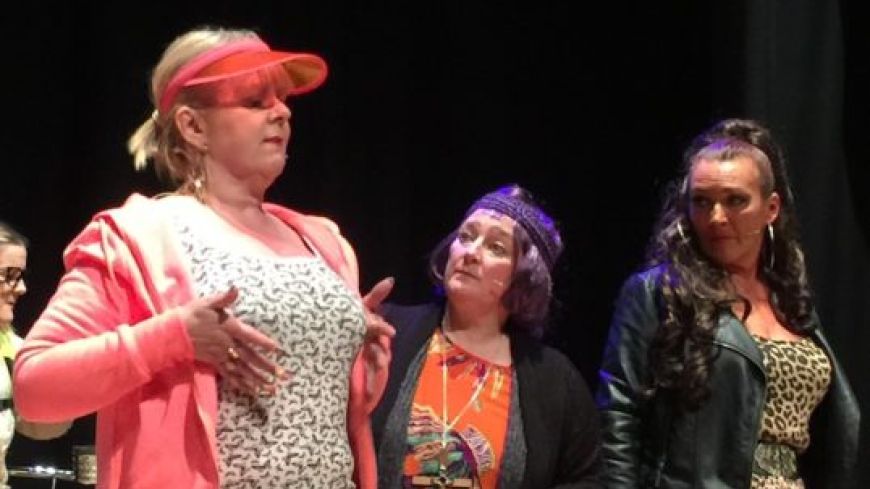 Production
Richard Harris (book), Mary Stewart-David (lyrics), Dennis King (muisc), Laura Jordan Reed (director), Janice Bruce (Choreography), Malcolm J Burnett (Technical director/design), Lewis Milne (lighting), Rhys Turner (sound)
Performers
Lesley Ward (Andy), Mairi Beaver (Dorothy), Alistair Thomas (Geoffrey), Kathryn Sampson (Lynne), Claire McVicar (Mavis), Janice Bruce (Maxine), Elaine Clark (Rose), Fiona Robertson (Sylvia), Dorothy Johnstone (Vera), Jacqueline Hannan (Glenda).
The original 1984 stage play of " Stepping Out" by the actor Richard Harris received the Evening Standard Comedy of the Year Award, transferred to Broadway and was adapted into a film, starring Liza Minelli. The story is based on real life events, inspired by his wife's experiences taking a dance class: "It struck me that they all seemed to be thoroughly enjoying themselves and I thought if I could capture that, the pleasure they are getting out of the class, it might be a winner".
With such a scenario, it was logical to turn the play into a stage musical, which premiered in 1997. The Twilighters is a new production company founded by director Laura Jordan Reed who has performed in and directed musical theatre over many years with companies including Southern Light and The Bohemians.
"Stepping Out" is set in a North London church hall, well-staged with a row of bentwood chairs, vintage upright piano and signs for the Changing Room and the loos. Here, once a week, Mavis, a former professional dancer "a hundred years ago," (played with real conviction and vivacity by Claire McVicar), teaches Tap Dancing assisted by her friend, the rather grumpy Glenda who supplies the piano accompaniment.
As well as good exercise, it's also a social get together for the seven women (aged between 25 and 60+ ) and Geoffrey, the sole male and Billy Elliot in the class. Dressed in a colourful array of T shirts, pink velour, skin tight lycra and animal print leotards, the line up of ungainly left footers painstakingly practice the complex dance steps with hilarious results.
But it's offstage where we observe the heart of the drama. Gradually we learn about their private lives through snippets of chit chat, sharing confidences and gossip.
The musical numbers, reminiscent of Sondheim sentiment and lyricism, lead the plot along revealing the characters' concerns and family lives. When the rather shy, diffident girl Andy warms to Geoffrey's kindly nature, their duet, "Quite" - "I almost offered you a lift, I nearly stopped to say hello" - (charmingly performed by Lesley Ward and Alistair Thomas), is richly poignant in its bittersweet sincerity.
We observe the class struggling to perfect the choreography week by week and also socialising over drinks in the pub afterwards. Maxine, Rose and Sylvia have a laugh over personal marital issues while enjoying flirting and flaunting their assets – pin-sharp comedic performances here by Janice Bruce, Elaine Clark and Fiona Robertson.
Written in the 1980s, there's a strong, now dated, feminist subtext here, where the older women are defined by their men, such as Vera, who appears to be in awe of her wealthy husband, and also Dorothy and Lynne who are desperately seeking one.
Amongst many other fine songs, "Loving Him" is a beautiful ballad by Mavis, Andy and Vera, as they all reflect on love, life and hiding the hard truth of their relationships. "How do you love a man who fills you full of doubt …"
The vocal quality and harmonies by all the cast is most impressive, matched by their acting talent, portraying these very different people across class, age and personality. There are some real laugh out loud moments, especially through cutting, catty comments:"I used to be as fat as you are," remarks Vera to Sylvia, not realising how rude she is. Jacqueline Hannan as Glenda, rather like Julie Walters in her role as the long suffering pianist, "Why wasn't I consulted first," she complains to anyone who will listen.
With ten characters on stage, all with a story to tell through intimate exchanges or outspoken criticism, sometimes you miss all that's going on in this emotionally-charged drama.
The show runs to almost three hours and, unfortunately, the action (particularly Act 1), is rather plodding with some unnecessary repetition of narrative (which perhaps could be trimmed if artistic licence and copyright allows). However, the performances are sure to tighten up through the week with slicker dialogue, scene changes and resolving first night technical and lighting problems.
The dancers in Mavis's class work hard at their tap dancing routines and by the end of the night - without any plot spoiler - the choreography is polished and professional with a Ginger Rogers and Fred Astaire-style finale.
For this ambitious debut by The Twilighters, great credit is due to Laura Jordan Reed and Janice Bruce for staging such an entertaining production – a feel good, heart-warming show performed with sparkling wit, musical and theatrical flair.
Show times
Wednesday 11 – Saturday 14 May 2016
Evenings Weds – Fri: 7.30pm.
Matinee only, Sat 14: 2.30pm
.