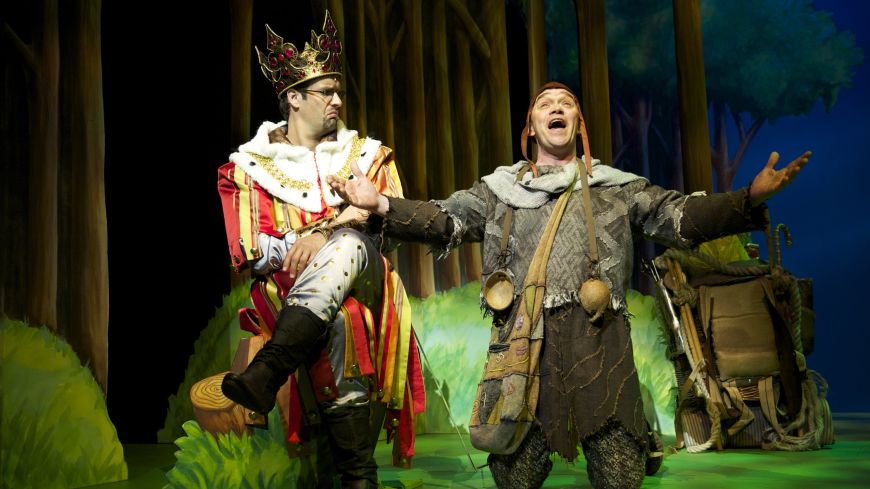 Production
Christopher Luscombe (Director), Hugh Durrant (Set and Costume Designer), Jenny Arnold (Choreographer), Nick Richings (Lighting Designer), Simon Beck (Musical Supervisor), Dean Austin (Musical Director), Scott Penrose (Special Effects), Simon Gooding (Production Manager)
Performers
Marcus Brigstocke (King Arthur), Hayley Tamaddon (The Lady Of The Lake), Todd Carty (Patsy), Robin Armstrong (Sir Bedevere/Dennis's Mother/Concorde/Guard), Samuel Holmes (Sir Robin/Mayor), David Langham (Prince Herbert/Historian/Not Dead Fred/Minstrel), Simon Lipkin (Sir Dennis Galahad/The Black Knight/Prince Herbert's Father), Graham Macduff (Sir Lancelot/ The French Taunter/Knight Of Ni/Tim The Enchanter), Eric Idle (God)
Have your parents ever sat you down and told you about the 1960s? My parents do it all of the time. And they always tell me the same guff over and over again. From what they tell me, it was all about the music, fashion and free love. The Beatles, The Stones, Hendrix, Dylan, and so on and so forth.
But there was more to the 60's than that wasn't there? What about the Space race? The Kennedy assassination? Martin Luther King and the Civil Rights movement? The Vietnam War?
And, most importantly, how could they possibly forget, the most culturally significant moment of all! The arrival of Monty Python's Flying Circus!
On Sunday 5th October 1969, those cheeky chappies (Graham Chapman, John Cleese, Terry Gilliam, Eric Idle, Terry Jones and Michael Palin) invaded the public's living rooms with a surreal and unhinged form of comedy that baffled unsuspecting BBC audiences, yet intrigued in equal measure.
And tonight, over 40 years later, I am going to see Monty Python's Holy Grail, live at The Playhouse Theatre, Edinburgh!
Well, sort of. Actually, it's Spamalot.  
Described as a "new musical lovingly ripped off from Monty Python and the Holy Grail", the opportunities to screw it up are endless. You trip once and that's it. Your neck is for the noose.
Spamalot leaps, dances and joyously kicks around such expectant traps. In a word, Spamalot is perfect.
Yes, it would have been nice to see Cleese and Palin tread those boards once more, but if you're looking for the next best thing then look no further. Laugh? I almost died.
This manic and endlessly surprising musical is basically a warped take on the famous King Arthur story, much in the same vain of (or lovingly ripped off from) Monty Python's Holy Grail. There are sexy dancers, killer rabbits, cows, and, oh yes, French people.
What more could you want?
Songs?
Well, you're in luck, my friends! There are songs a plenty. And not only are they playfully struck and pitch perfectly perfect, but they are also outstandingly funny and stupidly clever.....oh, and yes, you may indeed be treated to an odd nod to everybody's favourite sing along, Always Look On The Bright Side Of Life.
Needless to say, if all of this gels so well, then the performances must have been pretty darn impressive. Well, they weren't: they were surprisingly amazing.
I say surprisingly because King Arthur is actually played by Marcus Brigstocke, of Argumental fame.
Now, don't get the wrong end of the stick here, that is not a cheap swipe at Mr Brigstocke. I am actually quite a fan. It's just that I was not aware of his acting ambitions and with some notable actors by his side (Todd Carty, for example), it was a slight worry that his relative inexperience might shine through. But he was brilliant and I genuinely hope he does more of this kind of thing.
To pick a shining star out of an evening alight with shining stars is no simple feat and perhaps a trifle pointless or unfair, but there must be an extra special mention for Amy Nuttall who plays the ever wonderful Lady Of The Lake. Her performance burns with wit and laughter and has a voice that could charm the birds down from the trees. For someone so small (I had the privilege spotting her at the Theatre Royal after the show for post performance drinks) she can belt out one hell of a tune. An absolute ray of sunshine.
I am not actually a huge fan of musicals, if I'm completely honest. Give me a drama of depression and hopelessness and I'll be first in line. Give me Pinter. Give me Beckett. Give me Sarah Kane. This was an experience that I'm not sure I've ever had before. All this happiness. All this singing. This was strange.  This was... something completely different.
Show times

18 - 23 October, 7:30pm (2:30pm on 20th & 23rd)