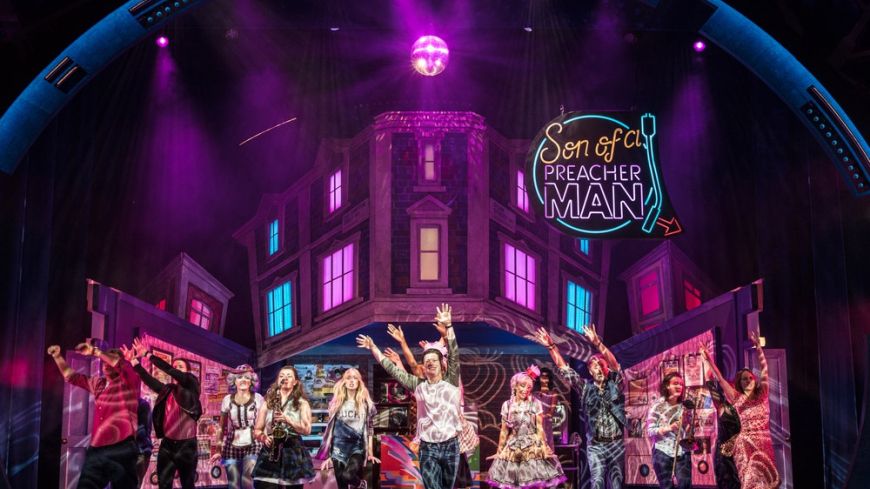 Production
Craig Revel Horwood (Director/Choreographer), Warner Brown (Book), Morgan Large (Set/Costume Designer), Paul Herbert (Music Arrangements), Richard G Jones (Lighting), Richard Brooker (Sound)
Performers
Diana Vickers (Kat), Michael Howe (Paul), Debra Stephenson (Alison), Ian Reddington (Simon)

Ensemble: Cassiopeia Berkeley-Agyepong, Ellie-Jane Goddard, Gary Mitchinson, Jess Barker, Jon Bonner, Kate Hardisty, Lewis Kidd, Liam Vincent-Kilbride, Michelle Long, Rachael McAllister

Popular history proves that when times are tough, we get nostalgic. With the popularity (and box office kerching) of Jukebox Musicals, the legendary Dusty Springfield's back catalogue of heart and soul hits was an obvious choice, but unfortunately this vision diminishes the iconic music with a laughable plot, clunky direction, phoned in vocals and questionable choreography.
Warner Brown's book might be plausible for a musical on paper, the genre where we are most adept at suspending our disbelief, but the execution is absurdly awkward with many holes in the narrative, terrible transitions and a ludicrous shmaltzy finish. It's the definition of shoehorning a story around a selection of songs.
The wobbly plot follows Kat (Diana Vickers), Paul (Michael Howe) and Alison (Debra Stephenson) – three random strangers with broken hearts who journey to Soho, drawn there by tales of an infamous 60s record store run by Preacher Man, known for spinning the best tunes and handing out sage advice. In the record shops place stands a coffee shop, handily managed by Simon (Ian Reddington), the Son of the Preacher Man (sigh).
Somehow it becomes Simon's duty to try to help the trio find happiness again by investigating their current lovestruck fantasies – Paul can't forget the enchanting boy he met in the 60s, Alison is a widowed teacher tempted by a student and Kat is a millennial rejected by the illusion of an online dating persona.
Cue contrived situations in a mish-mash of genres that, under Craig Revel Horwood's direction, is not engaging enough, especially with one of the most confusing and cringeworthy openings of meandering musicians and actors in a hodgepodge that's very reminiscent of drama school warm up activities.
The cast deserves better, and while there's no shortage of talent onstage, there's a stilted air to the whole affair from the get go which breeds into unnatural performances and a struggle to care about these stories, willing them to just get to a song because at least we know that's good. Diana Vickers looked notably awkward, perhaps connected to letting understudy Jess Barker take the reins for the opening performance in Edinburgh last night.
While Springfield's back catalogue isn't faultable, the majority of the delivery here was, with many questionable decisions, notably an agonising and pitchy rendition of I Just Don't Know What to Do With Myself, as four ensemble slow-mo dance with empty chairs and fling themselves to the ground with woe is me sentimentality.
The choreography is by numbers, crude where it doesn't need to be and executed terribly. Revel Horwood has added another level of cringe with the interpretive elements to the movement onstage, and the show stopping moments are not choreographed to the capabilities of those onstage. In his own words, Dis-asssssss-ter Darling.
A real shame and a wasted opportunity to mould Dusty's soulful songs into a straightforward plot that showcases how we all just want to be loved and not lonely.
Kings Theatre, Edinburgh, until Sat 21 Oct.