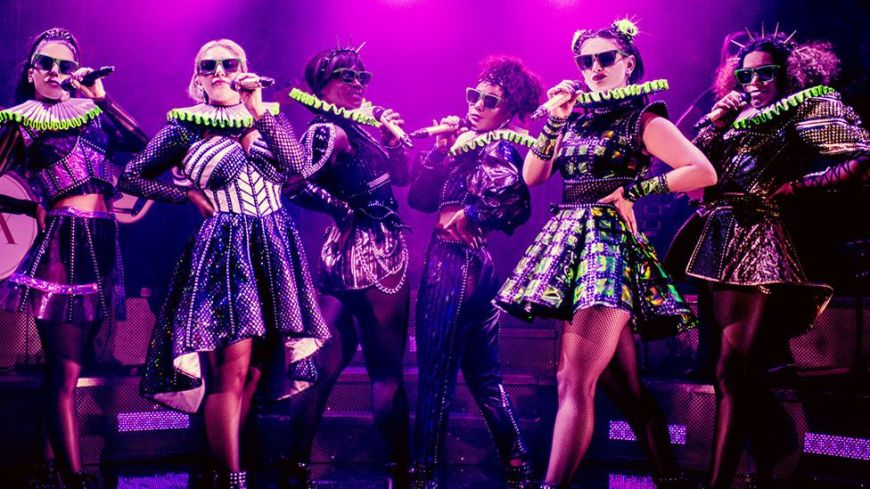 Company
Kenny Wax, Global Musical, George Stiles, Ex-Wives Ltd and Marlow and Moss
Production
Lucy Moss (writer, director), Toby Marlow (writer), Jamie Armitage (director), Carrie-Anne Ingrouille (choreographer), Emma Bailey (set designer), Gabriella Slade (costume designer), Paul Gatehouse (sound designer), Tim Deiling (lighting designer), Tom Curran (orchestrator), Joe Beighton (musical supervisor), Katy Richardson (UK associate musical supervisor), Franny Anne Rafferty (associate director), Grace Taylor (associate director), Freya Sands (associate choreographer), Melody Sinclair (associate choreographer), Amber Sinclair-Case (resident director), Nicole Bondzie (resident choreographer), Kenny Wax (producer), Wendy and Andy Barnes (producers), George Stiles (producer), Pearson Casting CDG
Performers
Chlöe Hart (Catherine of Aragon), Jennifer Caldwell (Anne Boleyn/ Social Media Captain), Casey Al-Shaqsy (Jane Seymour), Aiesha Naomi Pease (Anna of Cleves), Jaina Brock-Patel (Katherine Howard), Alana M Robinson (Catherine Parr), Grace Melville (alternate Catherine of Aragon and Anna of Cleves), Leesa Tulley (alternate Anna of Cleves and Katherine Howard), Natalie Pilkington (alternate Jane Seymour and Catherine Parr/ Dance Captain), Harriet Caplan-Dean (Super Swing), Jenny Deacon (keys and musical direction), Vanessa Dominique (drums), Laura Browne (guitar) and Kat Bax (bass).

SIX has returned to the Festival Theatre following its last pre-pandemic run at the venue in early 2020. Having grown from humble Edinburgh Fringe origins, the edutainment musical of the century (yes, it rivals Hamilton for that category) is a global sensation.
Taking back their power and their story, Henry VIII's six wives are resurrected and returned to claim history (ehhem, herstory) for themselves. At first pitting themselves against the other to vie for the spot of #1 Most Wounded Wife, they ultimately come together in a megamix melding of queenly splendour, rising above their rivalry and banding together.
In truth, all 10 queens on stage deserve a mention - the six (EX)wives and the four women in the powerhouse, on-stage band, the "ladies in waiting" Jenny Deacon on keys and musical direction, Vanessa Dominique on drums, Laura Browne on guitar and Kat Bax on bass.
The sequined and studded monarchs are magnificent; however, the show's crowning glory is the book and lyrics by Toby Marlow and Lucy Moss who've created cleverness beyond measure with this deservedly popular musical. While all six queens do take us on an energetic and fun-filled 80 minute journey, they don't pack as powerful a punch as last tours' queens; the comedic timing, chemistry and vocal range don't quite match up (barring Chlöe Hart as Catherine of Aragon who was right on the money and Jennifer Caldwell who was hilarious as a deadpan Anne). (Hey! I thought this show was about rejecting comparisons!).
In place of a traditional musical set (Emma Bailey), lighting (Tim Deiling), choreography (Carrie-Ann Ingrouille) and costume (Gabriella Slade) reign supreme, all together exuding the energy of what must have existed in the early 90s at a Spice Girls concert though the subject matter be of 1500s consort.
With over 450 million streams worldwide, this girl power musical is worth the hype. Get your ticket now to this sell-out Tudor take-off before it (be)heads onto the next city on its #RoyalTour!
TUE 15 MAR TO SAT 26 MAR 2022
Tue - Thu 8pm | Fri 6pm & 8.30pm | Sat 4pm & 8pm | Sun 2pm
Running time (approx.): 1 hour 20 minutes (No interval)
Age: 10+